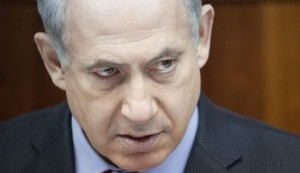 When times are tough people are forced to tell the truth. The little game Netanyahu has been playing over the years has come a cropper. The other day when he faced an election that seemed to destroy his Putin-like desire of leading his country for the rest of his life the true Netanyahu surfaced. It was an ugly display; yet even in its ugliness many want to say it isn't the true Netanyahu. They want us to believe beneath the bulbous body is something different.
Netanyahu is 65, Putin is 62, both have lived during the same historical period. Each has dealt with American presidents and their State Departments that are delusional when it comes to understanding their countries. President Bush saw good in Putin and Netanyahu; President Obama sought a reset in relations with both as if we were wrong. They were unable to accept the duplicity of these men and pretended that though they were doing opposite of their words, their words and not their actions mattered. They've seen both men use their armed forces to invade neighboring countries. They experienced both are versed in the art of deny the naked and apparent truth and expecting others to if not believe them, at least not to call them out on their lies.
Netanyahu who has lusted for war with Iran came to America at the request of the Republican Party to speak to Congress urging such. His appearance prompted 47 U.S. Senators to write a letter contrary to our American custom to a foreign leader seeking to undermine our president. Netanyahu all along has been playing a duplicitous game saying one thing and doing another without paying any consequences for his treachery. Rather than that he's feted and lionized by the Republicans and others in America's Congress.
Earlier this week Netanyahu was in an election where it looked like he was behind. Panicking, he took off the sheep's clothing and exposed himself as the wolf he really is. For years he said he agreed with the desire of American and most other nations in the world that peace come to his nation. A key point to that peace was giving the Palestinians who live in the concentration camp-like Gaza and gulag-like West Bank a viable state.
This was called the two-state solution. As he professed his adherence to that idea, his actions seemed contrary to it. In 2012 by the 27 foreign ministers of the EU suggested the two-state solution was in danger. Israel's foreign minister rejected the EU report.  So everyone backed off not believing what their eyes showed them. Each assumed they were mistaken and Netanyahu still was for that result.
Fearing the loss of his office, to gain the support of those voters most against peace with the Palestinians, he told the the truth. He is against the two-state solution. Elect me he says and there will never be a Palestinian state. The millions of Palestinians in their hearts feared that was the case but always clung to the straw that there would be. Now they know for sure they will remain under Israel's yoke as long as Netanyahu is around. I could have told them that years ago but I guess some people have to hear it from the horse's mouth to believe it.
As bad as that is, Netanyahu did even worse. He scared people into voting for him by shouting "the Arabs are coming." He pointed out that that the Arabs who can vote in Israel are rushing to the polls to elect his opponent. He made clear to the Jews that the Arabs are different. He urged people to vote for him to prevent them from having any say in the country where they live. When President Carter claimed Israel was an apartheid state many called foul.  Who now can deny it?
It gets worse still. Netanyahu admitted that he is the one who promoted a Jerusalem settlement in the Palestinian area in order to block the expansion of the West Bank city of Bethlehem and its connection with Jerusalem. He hid his involvement in this to keep up the façade of respecting the Palestinian part of that city because this action itself undermined the idea of a Palestinian state. His actions such as that and increasing the settlement activity are done because Netanyahu knows he just has to hide his true intentions with nice words and do what he wants. The Congressional Republican will cover for him.
As for the attitude of the Israeli government toward the Arabs one only need to look at an exchange between Israeli foreign minister Avigdor Lieberman and the leader of the Arab party Aymanb Odeh in late February.  Both men were running for election to the parliament in Israel. Lieberman questioned Odeh's right to participate in the election. During a debate he said to him, ""Why did you come to this studio, why not to Gaza, or Ramallah? Why are you even here? You are not wanted here; you are a Palestinian citizen."
Odeh responded: "I am very welcome in my homeland. I am part of the nature, the surroundings, the landscape." Odeh's answer pointed out that all his life he has lived in Israel while Lieberman lived most of his in Moldova.
Imagine if the attitude in America toward the blacks, many who have been here longer than most whites, was that of Israel toward the Palestinians. Imagine if they were confined to a Gaza like area and that those who lived outside them were kept in segregated unconnected communities under the watchful eyes and guns of the whites. How long do you think the blacks would take it? How long do you think the Palestinians can take it?