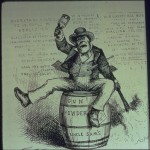 After I wrote last week about "Slurring the Irish" my friend Irish Pat called me. He's hardly ever called me at home so I was surprised to hear his voice. He said I should follow through with the idea and bring it into the governor's race.
I said I wasn't about to tell people to vote for Coakley because she was Irish. Pat said, "I'm not telling you to do that. What I'm just saying is that you should be telling people that isn't a reason to vote against her." Who is doing that I asked. He said the Boston Globe. I had written about Irish amnesia as perhaps being the reason the Globe endorsed Baker but not that it was because Coakley was Irish.
He asked me what about Frank Hatch. I said who? He said the Republican who ran for governor against Ed King. I had forgotten that. He said you know who the Globe endorsed back then, it was Hatch, a nobody. He said whenever an Irish person runs for governor the Globe rushes in to the corner office of the State House and puts a big sign on the governor's door "No Irish or Dogs Welcome."
I said I didn't know about that but would check it out. I seemed to recall that back when O'Brien ran against Romney the Globe leaned toward her and did half-heartedly support her but never came out saying they endorsed her. I wasn't sure. Anyway, Pat was on a roll so I let him talk on.
He asked how can a paper that has a reputation for supporting the liberal and sometimes progressive point of view turns on the candidate who more closely represents its ideology? "Don't you think it's a mighty bit odd that it supports one whose basic beliefs and instincts run contrary to everything that paper preaches. Coakley fits into its ideology like a hand in a glove and Baker fits it like the one O.J. Simpson tried on at his trial so explain that." 
That was true but it didn't carry the day with me. But I have to admit I smelled out a sudden animus in that paper toward Coakley over the past two weeks with its sneak attacks on her which seemed a little out of course. The paper was taking what I believed to be unfair shots at Coakley. That motivated me to jump in to endorse her to tip-off people to its tricks. I thought they mirrored some of the attacks we've seen in the past. It recalled to mind the way it went after other Irish politicians or office holders such as Bulger, O'Brien, Flaherty, Finnegan and Quinn to name just a few.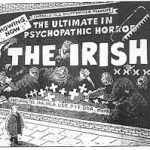 I said to Pat it was hard for me to believe that the ancient animus between the Irish and the WASPs still was motivating a newspaper. Pat pushed back asking me why as late as last Sunday the paper was reaching out to find people who would comment negatively on Coakley's actions in pursuing political corruption while in office. He said, "Isn't that what they did to undermine Bob Quinn. Remember the cartoon of him leaving the State House with his pockets stuffed with money?" Who could ever forget that libel upon a good man?
We went back and forth. I didn't want to believe that was the reason for the paper going against Coakley in this day and age. I was more comfortable with the revenge factor justifying its onslaught against her. Pat asked me if I remembered him telling me about how the people in the press room over on Morrissey Boulevard a few years back told him that the theme song at the Globe was: "If your Irish stay out of the parlor." I said that made no sense because the press room was filled with Irish guys. He said the parlor was the editorial area of the paper: it was all right for the Irish to work with in the dungeon with their hands.
Pat ended by saying: "To me it's as clear me as the Lakes of Killarney and as obvious as the stone walls of Connemara. The reason the Globe went against her was she was Irish." He was not to be dissuaded otherwise. We rung off.