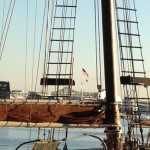 Here's the full jury question courtesy of Alysha Polumbo of NECN to help clarify: "Your honor, we need something clarified in order to reach a consensus among all jurors regarding some of the acts. In the indictment there are some charges that name multiple people with the defendant. If the jurors believe one of the other people named is guilty, are we to AUTOMATICALLY find the defendant guilty (or proved) solely based on the fact that the names are connected in the indictment?"
The judge sent back a three page response to the question.
Sweet Laurel of the Herald provided us with a portion of the judge's answer which read: ""Even if, as your question suggests, you were to believe that another person named in the indictment is guilty of a particular Racketeering Act, you may not automatically find that particular Racketeering Act has been proven against this defendant, Mr. Bulger, solely based on the fact that the names are connected in the indictment.  Instead, you must consider the jury instructions."
As I noted previously, and I would guess the judge mentioned they should consider those parts of the instruction relating to co-conspirator and aider and abettor. If the jury finds Whitey was either of those then he too is as guilty as the person they believe did the murders.
The jurors must now be debating how involved Whitey was in doing the murders. I say the murders because that seems to be the focus of the question which had the words "or proved" and that the judge answered with reference to the racketeering indictment.
The judge could have, I don't know if she did or not, suggested to the jurors that in the thirty-two particular acts in the racketeering indictment if the jurors could not reach a consensus they can skip over it and leave it neither proven or not proven. If she made that clear to them and suggested that they really only needed to find two of those underlying acts proven that would be enough for them to report back to the court because only two are necessary for a finding of guilty to the racketeering charge.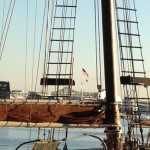 Perhaps on the verdict slip there should have been a third option. The jurors can check off "proven" or "not proven" but should also have been given the choice "neither proven or not proven."  Recall it was the first question the jury asked involved this matter.
I'd have to expect the jury will come in later today. The jurors are talking, they are tired, and I suppose they'll say "let's get the hell out of here" believing they discussed it enough and it is time to go home. What matters they can't decide upon they'll leave blank or they'll just give in to the obstructionists and find them not proven just to get free.
Let's say 3:00 p.m. at the latest for the verdict in #Bulger.