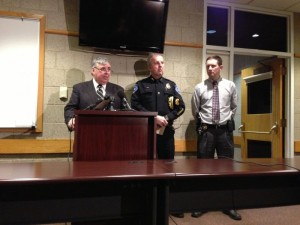 Almost a couple of years ago in February of 2012 I wrote a post entitled: "Prosecutorial Discretion – It's the Hard Decisions That Tell Us Whether A Prosecutor is Made of Sterner Stuff." 
The post was occasioned by an event that happened in Weymouth, Norfolk County. Michael Morrissey is the District Attorney in that county. A young man, Michael Beaudry, was alleged to have killed his father in an argument over a BB gun. It was alleged he hit his  father over the head with a piece of PVC-type pipe, his father collapsed, and when the police arrived he was cradling his father's head in his lap crying for help.
This tragedy both for Michael and his family would have to be treated in criminal court as a criminal homicide. I pointed that out but then suggested from what I read the correct charge against Michael under the law would be one of manslaughter rather than murder. But I noted that it would take courage to charge that way because most DAs would rather overcharge with a murder and then in order to get a plea reduce it down to manslaughter. I mentioned how the US Attorney constantly overcharges to get pleas as we saw in the case of Aaron Swartz and others.
For the purposes of full disclosure let me say I have met Morrissey on probably a half-dozen occasions. The last time was about a dozen years ago long before he was district attorney. My niece Keri was married to a young lawyer Peter Leary who worked in his law firm. At age 41 Peter died of brain cancer and Keri was left with her three young kids. I met him at both the wake and the funeral. Without knowing the details I was told he was extremely helpful, thoughtful and generous toward Keri and her family so you may infer I like the guy.
Yet that has not stopped me from criticizing him. I complained about him and the other DAs using collection agencies and some other things. I complained when he fired a young assistant DA because the media was putting pressure on him. Having done that, I feel when he does the right thing I should applaud him for it.
Once I wrote the Beaudry post I got involved in other matters especially since Whitey's trial was in the offing. I forgot about the case. I happened to be going through my old posts and came across the one I've mentioned. I wondered what ever had happened to the case. So I looked it up on the Internet.
I found a Patriot Ledger article on May 13, 2014, that told about it. Beaudry's trail was about to begin.  My eyes went to the sentence that read: "The younger Beaudry, then 20, was indicted the following month on a charge of manslaughter in connection with his father's death and a charge of assault and battery stemming from an alleged attack on his father the previous fall."
As we've seen the DA controls a grand jury. It made me feel good that Morrissey and his assistants had the courage to charge Michael Beaudry correctly rather than overcharging. Having done that they knew that the case would go to trial which as I just noted it did. Had they charged him with murder then Beaudry might very well have been forced to plead guilty to manslaughter and go to prison for a short time rather than to gamble and try to beat a murder charge which could send him to prison for the rest of his life.
The Patriot Ledger reported the results of the trial on May 19, 2014.  The first sentence read: "It took a jury about 40 minutes to acquit Michael Beaudry of manslaughter in the 2013 death of his father."  The jury found he acted in self-defense after hearing "a video-recorded statement [wherein] Beaudry told police that he had reacted to his father coming at him outside the home and didn't mean to hurt him." 
DA Morrissey lost the case but won the day. He and his assistants did the right thing. Confronted with a great tragedy in a family he gave the kid a fair chance to have a jury consider his actions. I'm not sure if the Beaudry family knows how much they owe to the courage of Morrissey and his prosecutors but from my point of view it is quite a lot. Kudos to all of the prosecutors for their great courage.