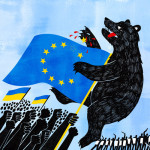 The people of Ukraine came out on Sunday, December 8, 2013. A million, maybe more or maybe a little less, gathered in what is now called Euromaiden Square. They tore down the statue of Lenin. They are demanding they not be crammed into the jaws of Russia by their corrupt leadership. On a cold day in the face of a brutal dictatorship these people spoke out hoping to keep their liberty.
The silence from our American politicians is stunning. We've lost our nerve. For the first time since the end of World War II in the face of people seeking freedom our leaders cower and remain quiet. Have we become a paper tiger fearful of using our might to help those seeking freedom?
Where is a President Kennedy who on June 26, 1963, when the US was facing a very real threat from the Soviets stood on the steps of the Rathaus Schöneberg in West Berlin and said: "Ich bin ein Berliner!" He laid down the gauntlet that kept the Soviets from gobbling up West Berlin that was plunked down in the middle of East Germany.
Where is a President Reagan who on June 12, 1987, 14 years after President Kennedy, stood before the Brandenburg Gate in West Berlin and stated: "General Secretary Gorbachev, if you seek peace, if you seek prosperity for the Soviet Union and Eastern Europe, if you seek liberalization: Come here to this gate! Mr. Gorbachev, open this gate! Mr. Gorbachev, tear down this wall!" Read the speech to get a sense for what made it so bold.
The Ukrainian protest garnered:
top billing on BBC news,
in the Irish Times,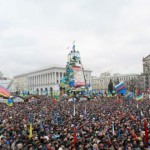 in the French newspaper Le Monde,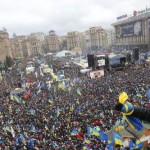 and in Germany's Spiegle,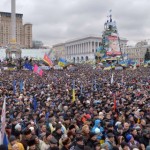 and even in the New York Times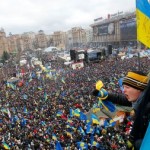 The Boston Globe gave it 4 lines.
But like President Obama, the Washington Post at noon on Sunday had still ignored it; as did the Boston Herald, LA Times, Chicago Tribune, and probably most other newspapers.
One of the largest pro-Western protests since 1989 when the Soviet Union first fell apart is ignored in most of America. We seem to no longer understand why we are free. We seem to think that the perpetual handouts will continue and we deserve things as the lawyers tell us in their television ads. We spend excessively on our military while 99% of the country has nothing to do with it; it might as well be a mercenary army of Hessians for all it impacts the rest of us.
Dana Millbank wrote recently of the need for a draft. From the president down, most of our leaders have not worn a uniform or sacrificed at all for the liberties many of our forebears have fought to preserve. Perhaps because of this they avert their eyes from the demands that freedom makes.
I thought the United States was the  leader of the free world. When Presidents Kennedy and Reagan were confronted by a powerful Soviet Union with missiles aimed at us and Europe and a continuing nuclear threat they spoke out. They knew that the Russian bear only wanted to smell weakness to make itself bold. They knew if it were faced with America's strength and defiance it would back down. They knew that a free world needed America to stand strong.
Obama does not seem to understand this. He is proving himself a weak president. That's why Russia believes it can again imprison the people of Ukraine; that's why China thinks it can now move against Japan; that's why the Egyptian people are again under the thumb of its military; and that's why our once strong allies no longer feel confident in our backing.
It is fifty years since President Kennedy was murdered. When he was inaugurated he said:  "Let every nation know, whether it wishes us well or ill, that we shall pay any price, bear any burden, meet any hardship, support any friend, oppose any foe to assure the survival and the success of liberty."
Today, under Obama, "to assure the survival and the success of liberty" which the Ukrainian people seek, never mind paying any price, we won't even speak out. What a pity America has shrunk to such a state.