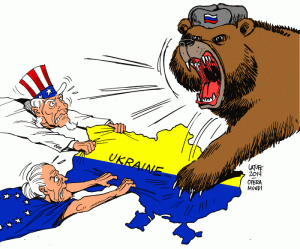 With apologies to Oklahoma:
Oh, the Russian and the American should be friends,
Oh, the Russian and the American should be friends.
One leader like to kills his foes,
The other likes to count his dough,
But that's no reason why they cain't be friends.
It is sort of scary to me how many Americans are singing the above song just because the Trumpster has told them that is how they should think. The Trumpster is pushing this courtesy of a deal that was made that Russia would help Trump in his election (yes, no one doubts that Russia helped him, some don't believe the deal was made).
Strangely, out of the blue the Trumptser questioned the American alliance with NATO which has kept peace in Europe of 70 years. He also cheered the British leaving the EU which will cause a significant undetermined amount of damage to the United Kingdom, perhaps making it even less united.  These moves only help Russia.
Not a few wondered why the Trumpster criticized other world leaders but found nothing but good things to say about the leader of Russia Putin. I have suggested before that this Bannon Russian strategy developed because of his amazement at how Putin has gained and held power for 17 years through his strong-arm tactics. Bannon admires, as a recent Breitbart article noted, how the Russian "health ministry works with Church-linked conservative groups against what they see as liberal western values."
Bannon as I noted in an earlier article seeks to have the nation's liberal values struck down. He and the Trumpster followers have difficulty accepting the secularism of the West. They seek to have a more Church-like policy which they believe exists in Russia no matter how much evil need be done to gain it.
In Newsweek in 2012 it was observed, "After near extermination under Communist rule, the church and religion are back at the heart of [Russia's] politics … Since Putin's reelection, a parade of priests have been loudly denouncing forces aligned against the president." The article went on to note "a group of Russian Orthodox vigilantes dressed in all-black clothing emblazoned with skulls and crosses patrol the streets. Its leader stated:  "The enemies of Holy Russia are everywhere. "We must protect holy places from liberals and their satanic ideology."
This is the drawing card for Americans who are drawn to Russia's preserving of the "old way" who see America turning more and more away from religion. Not that the Trumpster is a particularly religious person, True he does worship a god which is money but he knows how to appeal to those who fear the loss of the traditional Christian influence in America exemplified by the anti-religious Democratic Party leadership.
Bannon has a strong Christian belief of being surrounded by unbelievers who must be crushed. He has pushed the Trumpster (an admittedly ignorant person who did not even understand his recent prize health care legislation) toward the Putin way of governing. The Trumpster's followers are along for the ride.
Putin just faced the biggest demonstration in five years yesterday. He did not like it. The leader of that last demonstration Boris Nemtsov was murdered. This year the leader Alexi Nalvany has been arrested along with hundreds of others for peacefully protesting Russian corruption. Last week Denis Vorenenkov who fled from Russia being upset at the extensive corruption who turned on Putin was murdered on the streets of Kiev. Another opponent Vladimir Kara-Murza who was a supporter of Nemtsovwas poisoned for the second time as he protested against Putin. Then there was Sergei Magnitsky who was arrested and murdered in prison for reporting a massive tax fraud around Putin. Last week the lawyer Nikolai Gorokhov who represented him "fell" from a fourth floor apartment. Then there was Alexander Litvinenko who was poisoned in London after accusing Putin of the assassination of Anna Politkovskaya.
Yes, you followers of the Trumpster, that is the type of person you want to be friends with. Will that soon be the remedy the Trumpster bring to our country as his presidency continues to fail?
And by the way, the Trumpsters indifference to learning has caused him to cede control of the military to the general. It is reported "a new pattern of behaviour by US forces since Donald Trump took office in January. Since then, the monthly total of recorded civilian deaths from coalition airstrikes in Iraq and Syria has more than doubled, according to independent monitors."  Are we already following the ways of Putin?