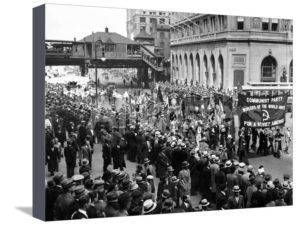 In writing my book about James "Whitey" Bulger I knew that he lived in Old Harbor Village during the time that I live there. He arrived there when I did sometime in late 1938 or 1939. What I did not know was how the project happened to arrive there. I did some research to discover this.
It's existence is due to the election of Franklin Delano Roosevelt who as New York governor was concerned about the housing situation of the poor people in his state He carried that interest over to his presidency.
President Roosevelt spoke often of the housing problem in America. In his 1937 State of the Union address he noted: "There are far-reaching problems still with us for which democracy must find solutions. For example, many millions of Americans still live in habitations which not only fail to provide the physical benefits of modern civilization but breed disease and impair the health of future generations." A couple of week later in his Second Inaugural Address on January 20 he said, "I see one-third of a nation ill-housed, ill-clad, ill- nourished. But it is not in despair that I paint you that picture. I paint it for you in hope . . . [W]e will never regard any faithful law-abiding group within our borders as superfluous. The test of our progress is not whether we add more to the abundance of those who have much; it is whether we provide enough for those who have too little." In his 1944 State of the Union Address as World War II was continuing he asked for a "second Bill of Rights" that would include "the right of every family to a decent home." (my emphasis)
His New Deal created in the heart of the depression was designed to save democracy in America by giving Americans jobs and to resist the allure of communism which was gaining popularity. It was being pushed as the only way to the future . During the 1930s the communists openly paraded behind the hammer and sickle red flag. For those without jobs or those with jobs that paid little who were stuck in cod water unheated flats in slums it was not too difficult to be convinced that capitalism had failed and that the road to the future was through state ownership of industry. Russia was being painted by many in rosy terms
FDR's Secretary of the Interior who was also the Federal Public Works Administrator, Harold L. Ickes, was put in charge of building the homes for the poor. He asked for states and cities to submit proposals for this new housing for those in the slums. He originally believed that private industry would help with the project with federal guarantees but found little interest. He then made it into a federal project to be funded by federal money. In January 1935 he announced they had decided on a site in South Boston where it was to be built.
The site selected was where Old Colony Project was  eventually located. To Ickes dismay the businesses and  homeowners on the proposed site who had to be evicted fought back against the eviction notices. It became clear to Ickes that it would be months if not years before the legal issues could be settled. When that happened Ickes people noticed thee was a site right next to the original site that was mostly vacant land with part of it being a dump. They went to work securing options to purchase the land from each of the owners,. With those in hand Ickes announced the second project which was to be called Old Harbor Village.
Eventually 10,000 applications were filed for the 1,016 units on the 23 acres.  Bids to build the foundation were received on November 1, 1935; later that month a former Republican governor representing a group of local landlords sought to stop the project; in August 1936 98% of the foundations were completed and Ickes told the successful bidder for the buildings the Matthew Cummings Company to begin work. The streets were then named by the Boston Street Commissioner and all had Irish names. What a surprise.
On March 31, 1938 the first forty families who were deemed poor enough to occupy the residences were notified. Most had small children and had been found to live " in unsatisfactory homes but distinguished by efforts to make their homes clean and attractive despite drawbacks."   On Sunday September 11, 1938 over 10,000 people attended the dedication ceremony which included a march of 700 children who were living there. In Sterling Square a monument to Labor was unveiled.
The Bulgers got invited, as did my family and my cousins the Concannon family. Joe Moakley's family and FBI Agent John Connolly's family also received invitations. Heat was included in the modest rent as well as electric ranges and refrigerators. It was a huge step up for some families used to ice boxes and coal stoves and winter cold.
I was always grateful that my family had this opportunity. I never understood why so many who lived there and benefited from the largesse of the federal government after reaching adulthood forgot what the government did for their families and  turned against others who seek government assistance. It wasn't supposed to be that way.