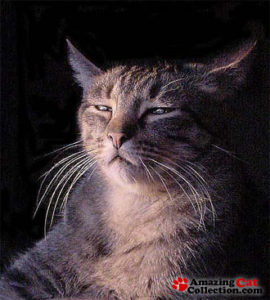 Thinking of Trump I realize that despite what he thinks otherwise he will soon become yesterday's newspapers good for nothing much more than wrapping the awful offal that is left after he engorges himself. I suggest this because Trump has made news in the past with his outlandish statements because they were in some way or another connected with his ability to act on them. Now he can only make statements but pretty much like one of those old 33 rpm records that gets caught in a grove he is just going to repeat the same stuff over and over again ad nauseum.
He has no power to make any of them into something. He's like the poor guy who lost his mind from imbibing too much who used to stand across the street yelling imbecilities at my house because of some grudge he had against my father who was a probation officer and shaking his fist in the air until he realized he was thirsty and dragged himself off down the street toward the closest watering hole. He bloviates – the same old, same old – but no one really pays attention because he is incapable of acting on his bitterness.
Words without power are only wind and those that inherit them will soon come to that awareness that they are no longer protected by the utterer. Already we see that the Proud Boys are a little less proud seeing no one has their backs;  the Oath Takers realize their vows offer them no protection by higher powers; and the Three Percenters are down to under one percent as former members disavow their associations. A future in prison was not what many of the foresaw when they foolishly followed their impotent leader's urging.
Everything the QAnon predicted has come to naught. Trump had no secret army, no clever plan, no potent following that could keep him in office. He's out and rummaging around a club in Florida with no immediate hope of accruing any power. His last foolish hurrah was on January 6, 2011, when he had the QAnons convinced they could somehow install him in office because even then he still had the power. He not only did not have what they envisioned he had what he did possess he put to good use washing his hands of those who acted on his behalf doing nothing as they started to get rounded up and put into jail pending trial before no nonsense judges – yes, even Trump judges – who do not take kindly to folk trying to overthrow the government which they have sworn to uphold.
Some of those Republicans in Congress still have not recognized that nothing more than emptiness emanates from Florida. They will vote against anything proposed by the Democrats hoping to have Trump's followers give them a future in the Republican Party. The all wise and wily Senator McConnell though recognizes Trump is fading away so while giving lip service to him he works to undermine him at every turn.