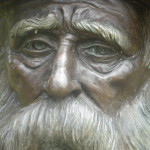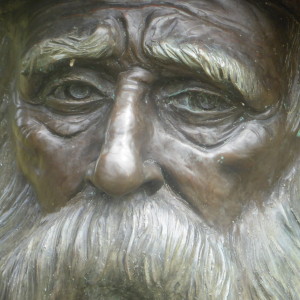 CBS News's Bob Schieffer recently quoted historian Will Durant who said:
"Barbarism, like the jungle, does not die out, but only retreats behind the barriers that civilization has thrown up against it, and waits there always to reclaim that to which civilization has temporarily laid claim."
I'm not familiar with jungles but with farm land. I can walk through the woods behind my house and see the foundation of an old house, its concrete steps leading to air, the chimney crumbled in on itself, the stone walls that used to be the borders of its cleared farm land and the rudely cobbled road that gave it access to the outside. All are difficult to discern since they have been reclaimed by the forest.
I've walked through the hills of New Hampshire and come upon small clearings behind the oaks, pines and other conifers. Entering them I've found grave stones of young children with the same surname, three, four and five years old.  They were all victims of the harsh life of earlier centuries. Was it only 50 or 100 years ago that this land was totally cleared of all trees and brush and crops were planted?
When we stop tending the land it slowly reverts back to its natural state. When we drop our guard, much more quickly will our society revert back to its natural state: barbarism.
We institute societies to keep the brutes from the door. We enact laws. We teach our children correct behaviors which have been taught to us by our parents. Acting correctly and having legal restrictions alone will not let them survive. We need the means to insure those who have not been taught as our children, or those who have little regard for the laws, are disabled from hurting those that do. We create police forces to keep the brutes at bay. We cross our fingers hoping our police forces won't become brutes.
Will Durant said that like the poor we will always have the barbarians among us. They have only been temporarily tamped down and restrained by our laws. While we recognize might does not make right but as Durant noted, the barbarian believes otherwise. It just waits to redeem what it lost.
The 20th Century showed us the correctness of Will Durant's statement. Two words Nazi and Cheka give proof of it. The barbarians did not come from untamed foreign lands into Germany or Russia but were living among the people. It was the neighbor or school mate or fellow worker who threw off the cloak of civilization once the way was made clear.
Again as we begin our trek through the 21st Century we see the sluice gates holding back the barbarians have been opened. These brutal men using brutal means have acquired power. They make up brutal rules to govern how others must live their lives. Who within their realm of power would dare defy them?  They murder others without remorse.
During the Cold War we referred to the nations of Eastern Europe that had been shanghaied into the Soviet orbit as Captive Nations. The people living under the barbarians are captive people. They have no voice; they have no choice.
Among today's barbarians are: Hamas, ISIS, Boko Haram, Al Qaeda, Ukrainian Separatists, and Taliban. The dilemma facing those who must confront them is to decide how to do it without further injuring the captive people.
Israel is on the front line now fighting the barbarians of Hamas. My problem with its fight is that it has confused the barbarians with the captive people. It has done this by not accepting the blame for their killings. Calling them shields, or suggesting that Hamas has forced it to kill them, allows Israel to wash its hands of any responsibility for its actions.
When you kill someone and blame someone else for making you do it you give yourself a license to continue to kill. When others accept such an explanation they too are giving you such a license. And, the killings will go on until you decide you've killed enough. And what then have you accomplished other than to lay the groundwork for future generations of people who will hate you.
The difficulty in fighting barbarians is to keep from becoming like them. When killing is done without remorse then one comes too close to being one.