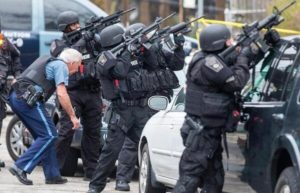 (3) The willingness of those in uniform to follow orders.
Those in civilian uniforms who take an oath to protect us such as our neighbors and friends can become unrecognizable under extenuating circumstances. Acting within the group and as a pack they can become as dangerous as pack wolves on the Steppes as described in My Antonia by Willa Cather. Uniforms can make brutes.
Those in the Boston area can recall the "Shelter in Place" order that shut down sections of the city when the police were searching for one man. One news source reported: "heavily armed members of the military, assisted by local law enforcement, are going door-to-door in Watertown, searching every house, garage, and shed for bombing suspect Dzhokhar Tsarnaev. CNN indicates that 9,000 members of law enforcement are involved in the effort. A no-fly zone is in effect over the town. . . . Authorities have asked businesses to remain closed. According to the Boston Globe, all vehicle traffic is banned in that city. In order to conduct its operation, the police are asking the media not to film what officers are doing."
"Regional public transit shut down, and schools were closed. Streets were largely deserted. A security expert interviewed by NPR called the scope of the shelter-in-place "incredible."
The order and police action affected the rights of over a million people. No one could stop them. Astoundingly, at the time it happened 91% of the people in the bluest of blue states supported it; a year later it was still supported by 81% of the people.
This was a search for one man. All the people in the area of Watertown lost all their rights. Truck loads of police poured into the neighborhood; people were rousted out of their houses; five to ten heavily armed men in uniforms intruded into homes conducting warrantless searches, and no one raised a peep. There was no way to stop this destruction of the liberties of thousands of people by people in uniform. How could it be stopped when so many approved?
I've written how six ICE law people went to a court to arrest one woman who was filing a domestic violence complaint. The use of overwhelming force to bring about order is becoming commonplace in America. These armed agents of our government willingly go about their work following orders from up above.
Now the head man of Homeland Security is asking for more police agents. Homeland Security Secretary, former general John Kelly, has asked for 5,000 more border agents and 10,000 new ICE officers. It is like shades of Vietnam where General Westmoreland continually asked for more troops.
I'm suggesting that when the order comes down to crush our liberties do not depend on it not being enforced. Those in uniform are more than willing to carry out orders to suppress their neighbors. Like a pack, they act and will attack anything that stands in their way. There will be no way to resist a nationwide "shelter in place" order which will freeze all activity to the point the witting men in uniform can carry out the orders.
Expect that it will be supported by a great majority of the people. When threatened most Americans seem willing to throw their rights out the window as is shown by the approval of the Boston shelter in place order. I have shown how the threat from terrorist activity in the United States is almost non-existent yet the fear of it goes through the roof. This is a country made for surrendering its rights in the false hope of total safety.
That is how fragile our democracy is. D.Trump acting pursuant to precedent can create a "national emergency" which is to continue for the duration of the endless war which will allow him to suppress all opposition and dissent. The uniformed forces are ready and willing to carry out his every order.
I suggest we will get a good look at this with the demonizing of the  kulaks  illegal immigrants and the soon to come widespread movement against them. This will make us recall the days of slavery when families were torn apart and parents separated from their children and siblings from each other. Where in the past many in the country rose up against the fugitive slave laws that returned escaped slaves back to their owners, now opposition will be unlikely because the media will be suppressed and news of the governments oppressive acts will disappear and the willingness of the massive uniformed forces to support it.
We will experience Hilter-like rallies. D.Trump last week tweeted: "Maybe the millions of people who voted to MAKE AMERICA GREAT AGAIN should have their own rally. It would be the greatest of them all!" Imagine a president asking for people to rally for him? it is unprecedented and a little inane in the U.S. but not in totalitarian states. How long after D.Trump gains absolute power will he mimic the Mao Zedongs and Pol Pots and demand compulsive rallying in support of him and the re-education camps for those who do not get it? How long before we see our own "Red Guard" or perhaps even the Khmer Rouge Killing Fields?
Perhaps that is why A.G. Sessions is again planning to rely on private prisons and why private prison stocks have doubled since D.Trump took over. Where else will those who will need the re-education be housed?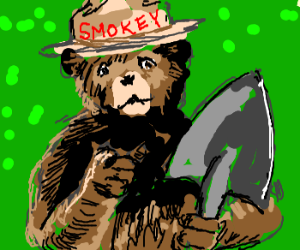 It is true. We are one "National Emergency" away from a Putin-like leader. Unlike what Smokey the Bear used to say: "Only you can stop forest fires," this time things are different.
Sadly. There is no way you can stop this from happening. You are on the cusp of seeing a two hundred forty-one year experiment come to an end.