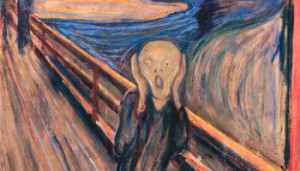 There is a video that was posted on Twitter that I saw the other day. The person talking had what sounded like a British accent.  He moves through the kitchen opening the cabinet and refrigerator doors to show there is plenty of food available in the house. While showing this he expresses his satisfaction that he has enough to last through the pandemic. He moves into the family room and shows a huge television hung on the wall and tells that he has connections to programs like Netflix and other movie channels which he says should make his life comfortable. He as an aside says the electricity is all set.
He then moves into the hallway. He adds that he also has plenty of liquor. He opens the hallway door to show the liquor on a table in there. After showing it to us he swings his camera to continue to show us other things. We get a quick glance at something else in the closet. It is a woman tied to a chair with a gag over her mouth. Obviously the guy narrating the video has broken into the home to ensure for himself that he could survive the upcoming weeks. The homeowner becomes his captive with a very uncertain future.
Hopefully this is not a peek into the future. It does however make me think about what will happen when people can no longer afford to buy food for themselves. The amount of money in a one time payment being begrudgingly delivered to the people by the federal government may provide temporary relief from inability to feed oneself or family as will the $600 unemployment benefits the government will pay in addition to what the states pay for four months. Hopefully these payments will help the folk get through with enough food.
Hunger breeds lawlessness and revolutions. It was one of the prime causes of the French Revolution. The lack of bread and its increasingly high price spread great discontent throughout France.  It gave us the well known, probably apocryphal, anecdote where Queen Marie Antoinette  is told the people have no bread and she replies "let them eat cake!" Speaking of that, have you noticed the high prices the grocery stores are now charging for basic items. Necessary items are no longer on sale.
By the way, and I'd guess a lot of people are sort of confused about this, I've read the $1,200 coming to the people is a loan which we have to pay back next year when we file our taxes. It is not income of which a certain percent is taxed, it's a loan to be paid back in full.
I said begrudgingly because at his Saturday mini-rally Trump expressed his disbelief that people were sitting at home and being paid as if they were going to work. He says our country is not supposed to be like that and we have to get them back to work as soon as we can. That made me conclude that the Republicans will be blocking any additional measures to assist those out of work.
The wisdom of the Democrats in pushing to get relief to the hoi polio will for a while ensure they have enough to eat. But if this menace continues to stalk the land the people will not sit back and starve. Food stores, storage buildings and houses (as shown in the video) will be targeted. Mobs and stay-at-home orders don't mix.