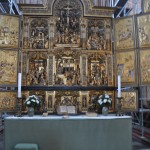 I began writing about Billy Bulger on Sunday. Before going on, I want to discuss two things that are important to know when judging Billy. First, we should know the characters that are part of his story; and, we should judge him and his actions by what was known in the past and not by what we know now.
Knowing about the background of characters who are involved permits you to make a more informed decision about the person's veracity and to better judge a person's actions.
When you interact with a stranger you go through a process to determine whether the person should be believed. You listen to see if the thing he is saying makes sense and you try to judge the person's character.  The greater understanding you have of a person's background, the better your decision as to his or her veracity.
A young man who settled in Boston after graduating from Harvard Law School at the age of twenty Louis Brandeis wrote in 1913 in Harper's Weekly that "Sunlight is said to be the best disinfectant." 
He was referring to the need of the public to be knowledgeable about the huge commissions being made by bankers and money trusts. He would also use the term in relation to the knowledge of what is behind governmental actions. I suggest it also applies to the people we read about or who we come into contact with. The more we know what makes a person tick, the better off we will be in making a decision relative to the person.
I'll try to provide some more light on some of the characters we will read about when I write about Billy including Billy himself. This will give you a better chance to judge the veracity of the allegations made against him.
Another thing I suggest we keep in mind is that one is much smarter looking backwards rather than looking forward. We've all been taken in by a polite person with a winning smile only to find out later that evil lurked behind the benign countenance. We then wished we knew then what we eventually discovered. We've given money to good causes only to find out they were fronts for crooks. Life is full of mistakes that we could have avoided if we could see into the future.
It is best to avoid judging ourselves for our past mistakes by what we know now. I suggest we look at what we knew then even though it is hard putting yourself back into the prior position. I suggest this because in the Billy Bulger situation, so much of the judgment of him is made from what we know now.
For example, Whitey is accused of 19 murders and some suggest he was involved in many more. Many of us believe that to be the case. But when is it we first decided that? I chased after Whitey for years believing him to be the head of a violent gang without knowing anything specific about his involvement in these murders. There are a handful of people who knew about his murders or back in 1975, 1985 or even 1995. These were the people who did them with him. Looking back we can say perhaps we should have known more, but we do that in light of today's knowledge. There is evidence that we could have stopped 9/11 from happening when we look back, but we live in an imperfect world so things obvious now had little significance then.
You've read about the Boston gang war in the early Sixties between the McLaughlins out of Charlestown and the Buddy McLean's Somerville guys. A couple of dozen got murdered. Murderman Martorano, Stevie Flemmi, and Frank Salemme were involved in these. Whitey wasn't, he was in prison for robbery.
Following that the Killeens and Mullins in South Boston had their own war where a dozen got killed. All the while Jerry Anguilo's Mafia were doing their own killings with the help of the Winter Hill gang.  Few, if any, got convicted for those murders.
It is only when the gangsters joined the 1997 queue to protect themselves by ratting out others that we've learned something about them but not the whole truth because gangsters only tell what helps themselves. Murderman Martorano, Brutalman Weeks, Mafia Chief Frankie Salemme and finally Stevie Flemmi made deals with the feds that in exchange for leniency for their murders they'd tell about others involved in them.
Those who excoriate Billy Bulger do so as if we all knew about these murders so he should have known about them. At least it appears that way in the media and books. Truth be told, whatever murders Whitey committed it seems to me Billy would be the last one to know.
Whitey would never had told Billy himself for the simple reason he knew Billy would recoil in horror. He'd also be jeopardizing Billy, his wife, and their nine children. I suggest you keep that clearly in mind. Add to it the fact that the feds have been working to get something on Billy for all the years since the gangsters began ratting each other out and have come up with nothing.
Whitey is known for his disciplined way of life. He stayed in good shape. He avoided excessive alcohol and drug use. He had few friends. He trusted a handful of people. He is said to have eradicated those he did not trust.
It seems self-evident that gangsters like Whitey, Stevie and Murderman knew their safety lied in secrecy. Brutalman Weeks testified Whitey taught him the idea behind committing  a crime is not to be caught. That meant limiting your associates and keeping your mouth shut afterwards.
There is no evidence or facts to support the suggestion that Billy knew his brother had murdered anyone prior to 1997 or 1998 when it became public knowledge. Even then, I assume from reading his autobiography, Billy didn't believe it.