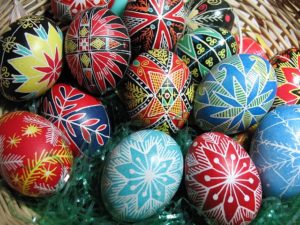 Today members of the Eastern Orthodox churches celebrate Easter. The date differs from that of other Christians because they follow the Julian calendar and not the Gregorian one. The latter was put into effect by Pope Gregory and the last thing the Orthodox leaders were going to do was follow something he did.
The Orthodox calendar is more in line with the Hebrew calendar which also did not follow Pope Gregory's adjustment. Because the calendars are different and because Easter is connected with Passover which comes following the first full moon after the spring equinox rarely do the Easters coincide.
Christians in America greet all with a "Happy Easter." (Only one that I know of has said Happy Good Friday.) I'm not sure what non-Orthodox Christians say outside the USA.
The Orthodox greeting on the day is to say "Christ has risen" to which the response is "Indeed, He has." 
My wife Maria of many years being Ukrainian Orthodox does not use the English expression but the Ukrainian expression. She says:  "Khrystos voskres!" I am supposed to reply "Voistynu voskres!" but rarely get it right. (In fact I may not be right now but since my wife doesn't read the blog she won't be bothered if I am wrong.)
Lent is a time of fasting in both major branches of Christianity, or at least at one time it was. During that time in the Ukrainian Orthodox tradition eggs are decorated with designs using wax which is known as doing pysanka. The week before Easter especially is one of fast with all sorts of rules. We try to abide by it. That means that today, Easter Sunday Orthodox style, we have a big feast.
This year though there will be no feast or family gathering. Maybe we'll do some Zooming later in the day. Usually paska bread is made, brought to church to be blessed, and then takes the center place at the family table. We will have unblessed paska. Along with the paska there is plenty of kielbaska which I sometimes would travel to South Boston to the Polish stores locate near Our Lady of Czestochowa church where they had a delicious assortment to pick up. Never though could find any that would equal what my wife's brother Nick would bring us from Schenectady, NY. Then there will be verenicki (aka pierogi), holopchi, much horseradish, potatoes, etc. A traditional egg breaking contest occurs to see who had the strongest egg.
It remains to be seen what we will have tomorrow. Maria has made the paska.  As to what else we'll have it will be far from the traditional foods since the fun of Easter is having these dishes and watching everyone enjoy them. It is hard to do the work involved if only two are going to enjoy them. But we are thankful for what we do have and we wish everyone "Khrystos voskres!"