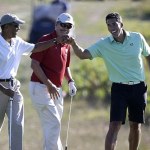 You won't read it in our mainstream news media but the use of cannabis is definitely detrimental. This study has found that it is highly addictive and opens the door to hard drugs. More importantly it impairs intellectual development.
Now listen to President Obama:  "As has been well documented, I smoked pot as a kid, and I view it as a bad habit and a vice, not very different from the cigarettes that I smoked as a young person up through a big chunk of my adult life. I don't think it is more dangerous than alcohol."
I've been wondering whether his youthful use of marijuana is affecting his judgment as is shown by his suggestion marijuana use is not dangerous. Recent scientific studies prove him wrong. I sense in him a mental fugue. I know its little things but are these symptoms of his brain not working right.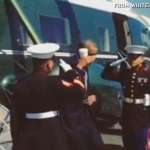 How account for his great insensitivity for his actions when one minute he is condemning a beheading of an America citizen and within ten minutes is seen laughing on the golf course; and what about the great faux pas of saluting two Marines with a coffee cup in his right hand. True, as I said they are minor, but are they indications of a bigger problem.
How responsible is he for not stopping the IS? (IS is sometimes referred to as ISIS, ISIL. It is supposed to stand for Islamic State. To me it stands for Islamic Savages.)  In January he was referring to them as a minor league team. Now we are going to all-out war with them. How account for such changes in six months?
It's reported he's been warned about IS since 2012. Yet he recently blamed the intelligence community for not keeping him properly posted. Perhaps the effects of cannabis made him forget the warnings. Or the effects of it made him miss almost 58% of the daily briefings.
The article quoted above stated: "Too often cannabis is wrongly seen as a safe drug, but as this review shows, there is a clear link with psychosis and schizophrenia, especially for teenagers. The common view that smoking cannabis is nothing to get worked up about needs to be challenged more effectively. Instead of classifying and re-classifying, government time and money would be much better spent on educating young people about how smoking cannabis is essentially playing a very real game of Russian roulette with your mental health."
I'm no expert but it always seemed to me that what you take into your body it will leave an effect. Jim Jones showed us the dire effects of cyanide-laced punch;  James Lind showed how oranges and lemons were useful in preventing scurvy. We've learned to the dismay of our tobacco companies that cigarette smoking badly damages the lungs. We know if you imbibe too much alcohol on a regular basis you may get cirrhosis of the liver.
The body accumulates things and retains things. The old expression that what you eat is what you are is true. Eat healthy and you'll be healthy. Smoke cigarettes or drink too much booze you lessen your chances for a healthy life.
How then does this play in with the use of marijuana. That doesn't affect most of the body only the most important part, the brain. I'd think if there is one part of the body we'd most want to safeguard it is the brain. Yet we know marijuana has a direct result on it.
Here's what I read: "When someone smokes marijuana, THC gets into the brain rapidly and attaches to cannabinoid receptors. The natural EC system is finely tuned to react appropriately to incoming information. But THC overwhelms the EC system. It prevents the natural chemicals from doing their job properly and throws the whole system off balance." The EC system is the endocannabinoid system named after the cannabis plant from which marijuana comes. It is an important communications system in the brain and the body.
We know that smoking pot affects the brain. One common result of its use is that is immediately seen is that people have trouble with thinking and problem solving. We don't know to what extent it damages the brain or how long the damage lasts or whether at times it comes back to affect our thinking.
Another report noted: "Recent research indicates marijuana use may cause permanent damage to areas of the brain related to memory and learning, specifically during important times of neural development (typically from when a fetus is first growing to when someone is in their early 20's). It could even cause a significant decline in IQ. Quitting marijuana use as an adult did not seem to fully restore those losses of brain functionality. In comparison, study participants who began to smoke as adults did not experience the same mental decline."
To me President Obama seems at times to be acting erratic. I'm just wondering whether his use of marijuana in his youth is coming back to bite him, or even worse us, the country.