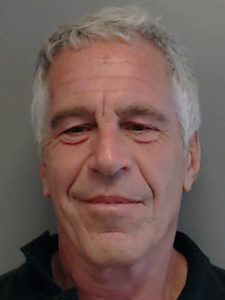 Pore Jeff is daid,
Pore Jeff Epstein is daid,
All gather 'round his cawfin and ask why
He had a heap of gold
And he wasn't so very old
Oh why did such a feller have to die?
Pore Jeff is daid
Pore Jeff Espstein is daid,
He's lookin' oh so peaceful and sereneAnd serene!He's all laid out to rest
With his hands acrost his chest
His fingernails have never been so clean!
Jeffrey Epstein, age 66,  born on January 20, 1953, met his demise under the same circumstances as James J. "Whitey" Bulger, age 89 , born on September 3, 1929.  Both were being held by the Federal Bureau of Prisons. While Bulger was interested in living despite knowing he would never get out of prison  he was murdered  on October 30, 2018. Epstein who was not under a sentence and was being held pending trial took his own life on August 10, 2019.
Both deaths are being investigated.
Attorney General Barr put out a statement: "I was appalled to learn that Jeffrey Epstein was found dead early this morning from an apparent suicide while in federal custody."