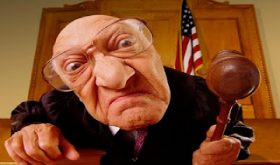 The Chief Judge of the federal district court in Boston told the defendant according to this article that he committed "an extremely serious crime." The defendant was Ismael Morales, 36, a former maintenance worker. Morales was sentenced to two years in prison; that was the same amount of time as requested by the prosecutor.
On the other hand there is this matter involving taxi magnate Edward J. Tutunjian who was set upon after the Boston Globe's Spotlight Series by U.S. Attorney Ortiz who raided his premises, seized all his records, and went through them with a fine tooth comb looking for crimes. Sure enough she found some as she would going through any cab company records.
Tutunjian did not pay the payroll taxes he was supposed to pay by concealing the full amount he was paying his employees (he paid part of their compensation in cash), he hired illegal aliens, and he underreported the amount of money he was paying his employees and some were able to get apartments in federally subsidized housing units.
What is strange about the case is Tutunjian's company is only one of many cab companies. None of the others were raided by Ortiz's office. I have to guess the practice of underreporting payroll by paying cash, which benefited both the company and the driver, is probably a common practice.