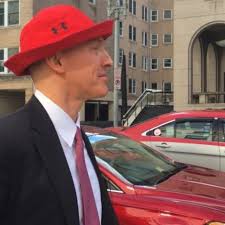 The MEMO talks about Carter Page the subject of a FISA warrant. According to the MEMO: "Page is a U.S. citizen who served as a volunteer advisor to the Trump presidential campaign." A better description would be "a Russian stooge who worked to undermine U.S. citizens."
What is it that we know about Page? Is it because he was a volunteer advisor to the Trump campaign that he was the subject of the warrant. One would think so reading the memo. Or is it because his contacts with Russia were such that not investigating him by the FBI would be a dereliction of duty. I suggest the latter is the case. Here is a background on the Russian Stooge the FBI went after.
Page is no stranger to Russia. He worked as an investment banker there for three years in the 2000s.
In 2013 Page met with and passed documents to a Russian intelligence operative in New York City in 2013. The Russian intelligence operative named Victor Podobny was later charged by the US government alongside two others for acting as unregistered agents of a foreign government. The charges, filed in January 2015, came after federal investigators busted a Russian spy ring that was seeking information on US sanctions as well as efforts to develop alternative energy. Page is an energy consultant.