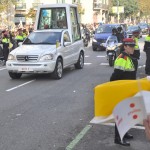 It did seem that Whitey and Stevie came together quite quickly for two guys who did not know each other before they met in May 1974. The first outside sighting of them being together that I know of comes from Kevin Weeks.  He said he was a bouncer during the summer of 1974 at Flix's which was in the Somerset Hotel on Commonwealth Avenue in Boston.  After the bar closed both Whitey, who he knew, and Stevie, who he was seeing for the first time, showed up and were let in by the owner.
Pat Nee tells us that in 1974 he told Whitey he wanted to do more to help the IRA.  He wrote: "At first Whitey couldn't warm to the idea of something that didn't involve Southie and didn't put money in his pocket." This pretty much follows along with the theme we've developed that Whitey still was more concerned with Southie than what was happening at Marshall Motors or anyplace else.
He said at the time he and Whitey were in complete control of South Boston but "One day it just seemed to happen — Stevie became attached to Whitey's hip"  But he also said something curious, "Gerry Angiulo had given Whitey the nod on Stevie."  This is extremely doubtful.