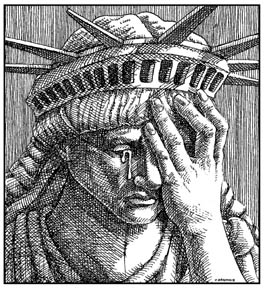 What this country needs more than anything else is a draft. Call it a national service or whatever you like but we need it. Since we've taken all burdens off of our citizens to do something for the country, no matter how small, we've slowly but inexorably drifted apart. Johnny I hardly knew you can be said by most people from different parts of the country.
One of my most valuable experiences in life was going into the military. I was thrown in with strangers, learned how they thought and acted, and appreciated our differences while recognizing there was something greater that overrode all these which is the nation's well-being. The draft brought people from all parts of the country together. We accepted we were all on the same ship and our goal was to do what was best for the whole and to put differences aside for its good.
Unfortunately because we isolate ourselves today we attack others with different opinions rather than interacting with them. We come up with lunatic theories to justify our ignorance. Each side outdoes the other.