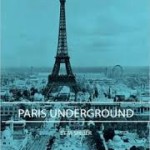 Being laid up a couple of days due to one of the periodic rebellions by my left knee, I took the occasion to do some reading outside the confines of the matters relating to Boston Betrayed, as I call the saga surrounding Whitey Bulger. I read Sean O'Casey's Knocking At The Door telling of his early youth in Dublin as a protestant boy; and, Paris-Underground by Etta Shiber an American citizen who in 1936 after the death of her husband of 35 years turned to her great friend Kitty Beaurepos, who she had met in Paris in 1925, and left New York to live with her in Paris.
Their lives were quite peaceful and comfortable up until the time in 1940 when the Nazi's invaded Paris. They tried to flee but seeing the Nazi planes began strafing the hordes of civilians engaged in the same endeavor they turned back. On the way back they stopped at an inn to get some food and discovered hidden there an RAF pilot who like 40,000 other British soldiers was unable to escape back to Britain during the Dunkirk evacuation. Like thousands of others he fled into the interior of France to avoid being captured by the Nazis.
Taking sympathy on him, 60 year-old Etta and 44 year-old Kitty brought him back into Paris in the luggage compartment of their car and hid him in their apartment hoping to be able to smuggle him from France and out of the grasp of the Nazis. They succeed in doing this with the help of some others. After doing that, Kitty, born and raised in Britain but married to a French citizen from who she lives separately, frets about the many British soldiers who are stranded in France knowing the Nazis are looking for them. She convinces Etta they should do all they can to rescue others.
The book tells of how they continue their exploits by setting up a system wherein they become the main cogs in rescuing about 150 British soldiers and moving them out of Nazi-occupied France. While they are operating this underground railroad the Nazis have announced that anyone involved in aiding British soldiers escape will be punished by death and offer a 10,000 Francs reward for anyone with information about those doing it.
The two women go to the extent of advertising in Paris Soir a German run newspaper their desire to help the soldiers. This brings them in contact with a young Catholic priest who has made contact with many of them. He has a system where he hides them in his rectory even though the other half of the rectory is occupied by German soldiers.
The Nazis will eventually capture the two women, the priest, and two others. They will be put on trial and the prosecutor will demand the death penalty for three of them. You might be saying it sounds like a thrilling tale, which it is, but how does it figure into the subject matter of the blog?
I read it to get away from the blog, as I said, but the actions of Etta, the American, after being captured stood out so starkly from that of the gangsters we encountered in this case, that I could not fail to think of this.
Etta was arrested and brought in before the Gestapo.  She was interrogated, put in prison, released, followed, re-arrested, interrogated again, told she was going to be executed, and then put back in prison again. The prisoners under the Nazis were kept in inhumane conditions on starvation diets hoping they would break. Throughout it all she refused to confess her involvement in any of the activities or implicate others even though told her recalcitrance would cost her dearly.
All this happened to this American woman in her early 60s in a foreign country under the control of the brutal Nazis but she stuck to her guns. Compare that to these supposed tough guys we saw during Whitey's trial, Martorano, Weeks, Salemme, Flemmi and friends – murderers of upwards of fifty people – who when caught all became squealers; and like all squealers offer flimsy justifications for their betrayals. What squeamish scum these men are when compared to this middle-age woman who really had something to fear.
The priest who was sentenced to die escaped on the day of his execution; he then despite urging by many to flee refused. He went right back into the business of helping others. To see the actions of Etta, Kitty, and those who worked with her, and all those working in Paris in defiance of the Nazis, and how they stand in stark comparison to the people we have talked about over the past year makes me realize how much dirt I have been wallowing in when it comes to Whitey and his friends.
One other part of the book I must comment on is that all who had the courage to help did so without any reference to the religious beliefs or politics of those they were helping.
Read the book if you want to get a breath of fresh air.