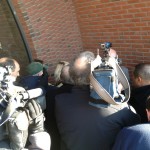 When Carney finished his rebuttal, hardly had he reached his seat than the clerk called for the next case that was scheduled to be heard that day. Judge Lynch asked to parties to hold off on their argument until the court room cleared. Over three-quarters of the people who were sitting there jumped up and left.
I was the last in line to leave when I heard counsel on the next case start talking about the issue of normal investigatory procedures which must be done prior to a wiretap being authorized. This has always been of interest to me. I stayed in the court to hear the arguments on that. It was about 45 minutes after everyone else left the court that I departed. Outside I saw the media pressing Carney into a corner just outside the front court's entry doors plying him with questions.
I watched a minute or so and planned to leave when I was approached by a  person with an interest in the case. The discussions were of a private nature. After he left another person also came up and introduced himself. This was also private. Both conversations give me a better feel for the matter and indicated I was mostly correct in my analysis.
What's the bottom line in the Court of Appeals. The judges if not aware of it could look at the packed court room and see there is widespread interest in the case. This was referred to also at some point in the presentations. The notoriety of the case and of the defendant of necessity will play into the court's decision. Also, the court has to consider the prior opinions by other appeal court judges which support the belief by some that Whitey Bulger is already considered guilty by the judges without being given his day in court.  When it looks like the deck is stacked against a person, the court has to be extra careful not to reinforce that perception.
I'd suggest the judges have great skepticism in J.W Carney's assertion that Whitey had immunity. There are no facts to back it up. It may be a bogus argument. Do they want to have a judge step down from a case in such a circumstance? But then again, this is a once in a generation case and the learned judges must be aware of the continuing controversy over Judge Webster Thayer sitting on the Sacco-Vanzetti case in another once in a generation case.
Judge Stearns has maintained he has no knowledge of Whitey. Judges give great deference to other judges under most circumstances. How could they not do it here where there are no facts to show otherwise just some wild speculations? But assuming Stearns had no knowledge, what difference does it make if it looks like he should have had knowledge. That is the unnecessary debate that may arise.
This is a very rare case. Nothing like it will occur again in the judges lifetimes. Having Stearns step down in these unique circumstances will set no precedent. The judges must think that if Whitey is as bad as we are lead to believe how will the public accept that a person in Stearns's position would have no knowledge of him. Especially so, when you consider his office was doing a wiretap hoping to catch him as well as other investigations of him.
For me the answer is easy, Stearns knew nothing of him because Whitey really was not considered or known to be a big time criminal when Stearns was running the US Attorney's office. Stearns's knowledge during his tenure in the '80s is being judged by what we think we know in 2012 after propagandizing by an extensive anti-Whitey media.  I also know this. I did wiretaps in a much smaller office. The first assistant at the time had no knowledge of them. Stearns's problem is he is caught in the trap where history has been rewritten by the media.
The court's problem is that even if it is sure Whitey's position has no merit they cannot assume the public will have the same belief. Won't a reasonable man wonder why Judge Stearns insisted on staying on the case and the Court of Appeal left him on the case when there are so many others who can handle the case without any objection or any delay
Weighing the need to give Whitey a clean sendoff to one of the maximum security prisons or one that will leave a sour taste in some mouths I'd suggest this is the type of case you bite the bullet and no matter how distasteful it may be within the confederacy of judges you tell Judge Stearns he's absolutely right in everything he's done but for the good of all it's best he step down.
That's what I would do. Why have an issue when you don't need one even though it is one manufactured out of whole cloth.
As I said before, Carney identified in his rebuttal the one issue which is to make sure nothing is done that will bring discredit on the judicial system. The top-notch panel in this case will sit down and weigh this one issue. They will ask how will it look to historians and the informed public at some point down the line that the chief prosecutor in the U.S. Attorney's office which office dealt on a daily basis with members of investigative agencies who were investigating or protecting a so-called notorious master criminal, Whitey Bulger, that he was allowed to preside at the trial of that criminal. They will have to weight that against Judge Stearns's determination not to be forced off a case on a pretext.
I've said removing Stearns makes the issue go away but then again is it the right thing to do?