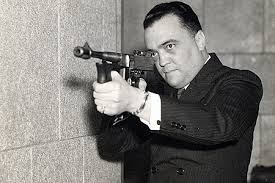 FBI Director Comey gave a statement yesterday. He did not take any questions. But he did tell us that the FBI did everything right. Only an FBI director and his agents could believe it had done everything right when a person who was identified as having terrorist intentions was known to them; they did ran investigation on him; found there was nothing; and then he went out and murdered people.
Comey said:  "We're also going to look hard at our own work to see whether there is something we should have done differently. So far, the honest answer is: I don't think so. I don't see anything in reviewing our own work that our agents should have done differently." 
It would seem to  me that if the FBI was on the level its director would have said: "this is the second time it has come to the public's attention that a man who committed a horrible terrorist attack on Americans was known to the FBI prior to his act. Both men were investigated by the FBI and were cleared and their files closed. Yet they went on to commit this horrendous act. Obviously what we are doing is insufficient to protect the American people. We are going to revise our procedures so that future incidents like this will not happen."
My statement would be too honest and forthright for the FBI. As predicted it went into cover-up mode telling us of all it did to investigate the man who murdered the 49 attendees at the LGBT Night Club. It apparently used undercover operatives and other investigative means for ten months and missed any indication that this person was going to be involved in terror down the line. Then it concludes it should not have done anything differently when it is clear what it did was not enough.
If it changes nothing then nothing will change. Comey asked people to report anything suspicious to the FBI. Most people will say "why bother. It does nothing with the information."
Now let me tell Director Comey one thing he could have done different. Before Omar Mateen could get his assault weapon his name had to be cleared by the FBI. It never should have passed muster. Anyone the FBI has had reasons to investigate as a suspected terrorist, especially one it investigated for ten months, should be prohibited from buying an assault weapon. That's quite simple. The FBI knows the person because it has investigated him; the FBI controls the list of people not allowed to buy those weapons; so it should have put his name on the list.
The FBI's big and first commandment is to avoid embarrassment. By hiding its faults and errors it remains in a cycle where it never learns from its mistakes. Its refusing to find that it did anything wrong was expected.
One thing was totally strange. Director Comey announced that he was not going to use the name of the Omar Mateen because he believed Mateen would have wanted him to do this. He suggested that one reason behind Mateen's act was to gain notoriety. An FBI Bulletin that followed also did not mention his name. I wonder if all the FBI agents are forbidden to use his name. Can't anyone interested in who the person is just Google the incident?
Will anyone in the mainstream media comment on how puerile it is for the FBI director to do this? Would the world be better off or worse off if we did not know the names of John Wilkes Booth or Lee Harvey Oswald or James Earl Ray? Does knowing their names help them in any way?
Suppose Omar Mateen survived, would the FBI have mentioned his name? What if he survived and escaped would the FBI want to put his name on its Top Ten Wanted List. Why does the FBI have that list if it is not interesting in publicizing the criminal's name?
Isn't there any one in the FBI who could tell the director he was making an idiot of himself not mentioning the person's name when every bit of media in the country, if not the world, is mentioning it. It shows two things: the FBI is all about form and not substance; and the people under the director are sycophantic weaklings.
We all know we learn from our mistakes. If we do not admit them we will persist in making the same mistake. Unfortunately for Americans the FBI has not learned.