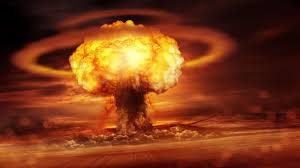 I was cut up short reading a tweet that Trump wrote the other day. (I assume he wrote it but I note that he has said other people have access to his Twitter account and they can tweet for him. This, of course, is another lie but it is an attempt to protect himself from his own words and give him some deniability."
The tweet that caught me up was: "If Iran wants to fight, that will be the official end of Iran. Never threaten the United States again! 1:25 PM – 19 May 2019"
Whatever could that mean "the official end of Iran?" How do you end the existence of a country? How would a person even think that could be accomplished? Never mind that, why is a person who is the U.S. president tweeting out such absurdities?
I pondered that thought. Then I remembered Trump's statement about nuclear weapons. I also remembered Sheldon Adelson's statement about them in relation to Iran. Knowing of the close connection between Trump and Adelson I dreaded thinking that Trump was actually planning to nuke Iran. I suppose that would in a sense be the official end of Iran since much of the area nuked would not be habitable for many years; along with that, there would be a drastic decrease in the number of Iranians living there.
If that is to be the case, the land no longer inhabited would be, after the radioactive material cleared, open for settlements of people from other countries. They could inhabit the land, change the name of the country, like we have changed the name of the Persian Gulf to the Arabian Gulf, and Trump's words would ring true.
What did Trump say about nuclear weapons. Here's a few of his statements: On March 30, 2016, he was told people don't want to hear an American president talking about using nuclear weapons. He responded. "Why are we making them? Why do we make them?" He also said speaking of nukes: "because, at a minimum, I want them to think maybe we would use it, OK?" Then there's the statement put out on Morning Joe that Trump when speaking with a "foreign policy expert," repeatedly asked "why can't we use nuclear weapons."
As for his friend Adelson, here's his approach to Iran: "Adelson then imagined what might happen if an American official were to call up an Iranian official, say "watch this," and subsequently drop a nuclear bomb in the middle of the Iranian desert. "Then you say, 'See! The next one is in the middle of Tehran. So, we mean business. You want to be wiped out? Go ahead and take a tough position and continue with your nuclear development. You want to be peaceful? Just reverse it all, and we will guarantee you that you can have a nuclear power plant for electricity purposes, energy purposes'," . . . "So a tremendous demonstration of American strength?"
The person hearing this asked, "So that they would get the message?" Adelson responded: "It's the only thing they understand."
I wondered whether Trump is considering Adelson's suggestion. The Tonkin Gulf incidents that seem to be happening and are being blamed on Iran: 4 ships slightly damaged, a drone hitting Saudi's pipeline doing hardly any damage, a missile fired into the Green Zone in Iraq a mile away from the U.S. embassy with no injuries, are all reminiscent of actions that got us into the Iraq war and other wars. They hope to gin up the American people who will believe we had no other alternative than to murder innocent Iranians.
One thing we know about Trump is he is unstable. He responds erratically to the slightest insult. He's now talking about "the official end of Iran." Those seem to be code words for a nuclear attack.