On occasion I read Samuel Taylor Coleridge's poem The Rime of the Ancient Mariner  which I have in a book that measures 15″ by 10 1/2″. Its size is due to it having the drawings by Gustave Doré whose brilliant illustrations give life to Coleridge's words. There are certain stanza that I particularly enjoy and will set them out here.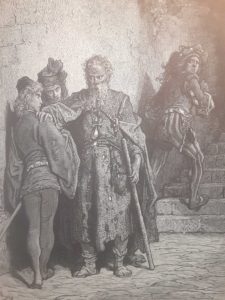 It is an ancient Mariner,
And he stoppeth one of three.
'By thy long grey beard and glittering eye,
Now wherefore stopp'st thou me?
The Bridegroom's doors are opened wide,
And I am next of kin;
The guests are met, the feast is set:
May'st hear the merry din.'
He holds him with his skinny hand,
'There was a ship,' quoth he.
'Hold off! unhand me, grey-beard loon!'
Eftsoons his hand dropt he.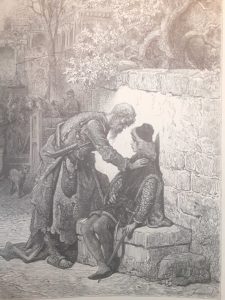 He holds him with his glittering eye—
The Wedding-Guest stood still,
And listens like a three years' child:
The Mariner hath his will.
The Wedding-Guest sat on a stone:
He cannot choose but hear;
And thus spake on that ancient man,
The bright-eyed Mariner.
———–
At length did cross an Albatross,
Thorough the fog it came;
As if it had been a Christian soul,
We hailed it in God's name.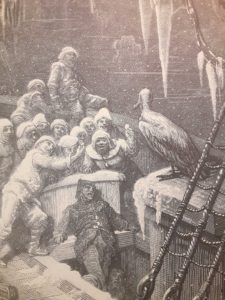 It ate the food it ne'er had eat,
And round and round it flew.
The ice did split with a thunder-fit;
The helmsman steered us through!
And a good south wind sprung up behind;
The Albatross did follow,
And every day, for food or play,
Came to the mariner's hollo!
In mist or cloud, on mast or shroud,
It perched for vespers nine;
Whiles all the night, through fog-smoke white,
Glimmered the white Moon-shine.'
'God save thee, ancient Mariner!
From the fiends, that plague thee thus!—
Why look'st thou so?'—With my cross-bow
I shot the ALBATROSS.
——–
Down dropt the breeze, the sails dropt down,
'Twas sad as sad could be;
And we did speak only to break
The silence of the sea!
All in a hot and copper sky,
The bloody Sun, at noon,
Right up above the mast did stand,
No bigger than the Moon.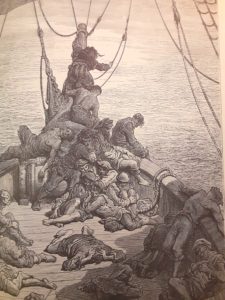 Day after day, day after day,
We stuck, nor breath nor motion;
As idle as a painted ship
Upon a painted ocean.
Water, water, every where,
And all the boards did shrink;
Water, water, every where,
Nor any drop to drink.
———-
———–
Oh sleep! it is a gentle thing,
Beloved from pole to pole!
To Mary Queen the praise be given!
She sent the gentle sleep from Heaven,
That slid into my soul.
———-
Like one, that on a lonesome road
Doth walk in fear and dread,
And having once turned round walks on,
And turns no more his head;
Because he knows, a frightful fiend
Doth close behind him tread.
——————-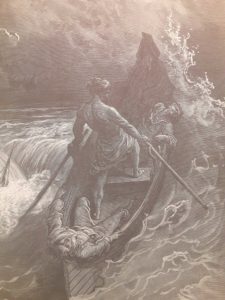 I moved my lips—the Pilot shrieked
And fell down in a fit;
The holy Hermit raised his eyes,
And prayed where he did sit.
I took the oars: the Pilot's boy,
Who now doth crazy go,
Laughed loud and long, and all the while
His eyes went to and fro.
'Ha! ha!' quoth he, 'full plain I see,
The Devil knows how to row.'
———————-
Farewell, farewell! but this I tell
To thee, thou Wedding-Guest!
He prayeth well, who loveth well
Both man and bird and beast.
He prayeth best, who loveth best
All things both great and small;
For the dear God who loveth us,
He made and loveth all.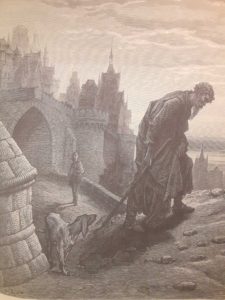 The Mariner, whose eye is bright,
Whose beard with age is hoar,
Is gone: and now the Wedding-Guest
Turned from the bridegroom's door.
He went like one that hath been stunned,
And is of sense forlorn:
A sadder and a wiser man,
He rose the morrow morn.