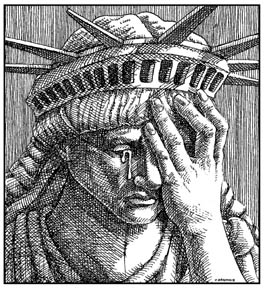 There was a time when one was proud to be an American.  I do not suppose many of you remember it. That's because it is very hard to when you look at it now. What do we have to be proud of?  Certainly it is not because we are leading the world in Covid-19 deaths and cases. Nor perhaps that Trump is in total denial of the carnage being spread through the land as he spends another weekend golfing. What was it he said on Sunday about that? Oh, yes, he said at some day it will disappear. What comfort that gives to the families of those almost 150,000 Americans who have died and the estimated 75,000 more who will die by Labor Day.
Certainly we cannot be proud of our standing in the world. The people in only  two countries have a positive view of the United States: Russia and Israel. The rest? Sadly, it is pretty bad. An Irish Times Article summed it up this way: "Over more than two centuries, the United States has stirred a very wide range of feelings in the rest of the world: love and hatred, fear and hope, envy and contempt, awe and anger. But there is one emotion that has never been directed towards the US until now: pity."
Pity,  The once great United States evokes a feeling of pity of all things.
With your drums and guns and guns and drums, hurroo, hurroo
With your drums and guns and guns and drums, hurroo, hurroo
With your drums and guns and guns and drums
The president nearly slew ye
Oh darling dear, Ye look so queer
America I hardly knew ye.
I think of the words to that song when I consider the plight of our country. What happened to the country that preserved the peace in Europe since WWII?
Would you in your longest and most dreadful day as an American who has always prided himself knowing that unlike what  we've seen in third world countries expect to hear a president say in response to a question whether he will leave the office peacefully if he is defeated the upcoming election "I have to see. Look … I have to see. No, I'm not going to just say yes. I'm not going to say no, and I didn't last time either." Of course the last time he wasn't in the White House.
Why is it much more frightening this time? We know the Russians will assist  Trump like they did before and AG Barr has prohibited any attempts to investigate it without his consent. That's scary enough.
But what about what we've seen in Portland. Federal (we think but they don't carry IDs) troops dressed in combat gear driving unmarked vans and seizing civilians off the street. The mayor, governor asked them to be removed. Is this Trump's Palace guard? Trump's private army?
Has any American president had a private combat force before? Is this America familiar to you?
For I'll go no more waltzing Matilda
All around the green bush far and free
To hump tent and pegs, a man needs both legs
No more waltzing Matilda for me.