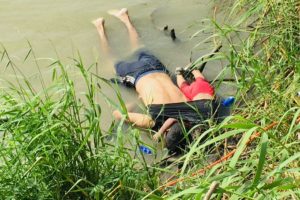 The old trickery is back. I suggest they call it "Operation Be Scared." It's sort a replay of what we saw in 2018 by the Trump gang when they insisted that caravans of people were ready to invade the American nation. Do you recall how we sent U.S. Military to the borders to thrust back those invaders: mothers and fathers and little children seeking a chance for a better life. After that stunt backfired the troops were withdrawn and the threat quickly disappeared.
We saw the result of our inhumane process. Even back then we had Trump folk justifying the separation of parents from their children pointing to the separation that occurs when a parent is sent to jail or prison. They foolishly pick up on Republican talking points without thinking there is a difference between one seeking a better life an one committing a crime. But as I've said before the Trump folk like to echo what their leader says without thinking of the foolishness of it like telling us about the Deep State that suddenly came into existence when Trump decided to run for office.
Operation Be Scared now is underway. It reminds me of this tale I heard about how it was to be in the distant and better future. At some point women began to realize that there was no need for misogynistic men who were the cause of much violence, hatred and wars. A group of them decided to do a systematic culling. It was a long-term project. Poison was a preferred tool. Slowly but surely all men were to be eliminated except a very small numbers with genes discovered through genetic investigation that showed they were less likely to be violent or have a misogynistic nature.
These men who were permitted to remain were confined to certain specified areas from which they could never leave. They were use only for the purpose of restocking the supply of sperm. Their only contact with the world outside their confines was access to cages with bars which allowed them to view the outside but barred their access to it.
Every day a certain number of men were put into these cages so that women, the only humans outside the confines, could come and view them. Often groups of schoolgirls would be brought to look at them. To show the girls why it was necessary to lock men away the teachers would bring with them bags of stones. They would hand them out to the girls and suggest they throw the stones at the men. They did. After getting hit the men would become irate, threaten them, yell and curse, jump around, fight among themselves trying to avoid being hit, and get all agitated.
The teachers would then calmly say to their girls "see how they react. See how violent they are. That's why we had to protect you from them."  The girls would nod in agreement and hurry to get away from the frenzied men in the cages.
Trump's Operation Be Scared will work as follows:
Troops Helping Under Government Sanction (thugs) consisting of Blackwater-type men, not necessarily all Americans, dressed as combat soldiers temporarily sworn in as federal agents will be sent into all major American cities  where people who had peaceably assembled to petition the government for redress of grievances lived. These thugs will go about making, as Chad Wolf the head of Homeland Security told us, "preemptive arrests" of civilians. When Americans come out to protest, like the teachers in the future world, the thugs will fire tear gas and projectiles at them. Their purpose is to cause violence.
Then Trump will point to the protesters and say "look everyone, those are anarchists, socialists, left wing radicals out to destroy America. Only I can protect you."
If that doesn't work to get Trump elected, these thugs will then be useful to keep a defeated president in office as he claims the election was rigged and he will not leave.