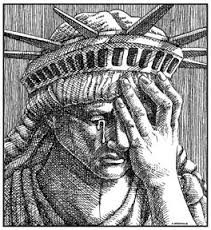 I suppose I could start off with the case of Retired FBI Agent John Connolly. He has been in prison for fifteen years and will probably die there. He never shot anyone. He was alleged to be a bad FBI agent but very little was shown that was the case. He was instrumental in bringing down the Boston Mafia but it was the Mafia leaders who ended up being cheered as heroes and awarded 25 million dollars by the federal court in Boston which seems to have some type of affinity for those gangsters – sort of like a Soprano-idolization that so many Americans have as witnessed by the popularity of that show. Somehow, the federal judges got it in their minds Connolly was bad and all the king's horses and all the king's men could not change it so they leaped at all sorts of lame conclusions to show that and each one commented on how wise were the other judges who agreed with him. None seem to have delved deeply into the matter (I know they tell us they are very busy) to understand the great injustice perpetrated against him.
What compounded this was the Florida murder trial where he was acquitted of first degree murder and conspiracy to murder but convicted of murder with a gun. Has anyone really analyzed the opinion of the Florida Appeals Court which upheld his conviction suggesting that at any time you possess a gun during the planning of a crime you can be convicted of having the gun at the crime scene even if you make an affirmative decision not to use a gun in any manner in relation to the crime. Say on Monday you go rabbit hunting with your best buddy Felix with your new AK 47s and while mowing down a couple of rabbits Felix asks you to strangle his ex Ramona Bells. He tells you she will be coming home  from her job at the car hop about 10:00 pm Wednesday night. You wait in the bushes outside her house and Ramona comes up the walkway and you strangle her. In Florida you could be charged with murder by gun. Makes sense? Of course not, but that is pretty much what happened to John Connolly. If someone said the fix was in then you'd be hard pressed not to believe it.
So while Connolly spends the rest of his life doing time for a crime he did not commit unless you think Ramona was murdered by a gun the federal justice machinery spins on as we've seen with the indictment of retired FBI Agent Robert Fitzpatrick which had no other merit than to satiate the lustful revenge of a prosecutor. Unfortunately, when prosecutors start to take things personally and prosecute for personal reasons then the system has been turned on its head and that is what seemed to have happened in the Fitzpatrick case.
I did not intend to write about any of the above. What brought me to the typewriter (is that still a proper name for what I am using?) was my thoughts about Ralph Di Masi who was just indicted for a 25-year-old murder as I wondered what is the evidence against him. My thoughts then slipped over to the greatest abomination in the history of American justice.
To appreciate this you have to imagine that a young woman named  Marylou has been missing six months and another young woman named Stella has been missing for a couple of months. Both left work at the Boston Hot Hip Company at night and have not been seen since. You are sitting in your prosecutor's seat wondering about the upcoming Christmas Party and a lawyer Marty Perez comes in to your office. He represents Guy Hoodlum who you have charged with a stack of crimes for which you expect he can easily get up to 20 years.
Marty says hypothetically suppose his client Guy can tell you where Marylou and Stella's bodies can be found and further suppose he admits to murdering them as well as telling you about three other murders he did; he want to know what kind of deal you will give Guy. What do you say?