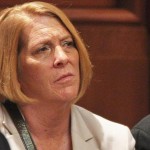 Patricia Campatelli looks like she's had a tough life and can give as good as she can get. Back in 2002 she went out and got herself elected as the Register of Probate in Suffolk County. Now Massachusetts highest court, the SJC, has said that even though the people elected her to that job and she can still get her full pay, she can't go back to work. Future hiring decisions will be made by the judges. Ms Campatelli joins the list of People Out Of Favor (POOF). Her offense, she didn't act like a woman is expected to act.
I don't know if you know what it involves to be a POOF but it is rather simple, the media makes you a public pariah and people in powerful positions in the executive or judiciary will move heaven and earth to please the newspaper. Due process is thrown aside. Te person POOFed will be crushed. The door of justice slammed in your face.
The prime example of this occurred 40 years ago. Back then the Boston School Committee fell out of favor; a combination of a politically correct news media and the federal court in Boston stripped it of its elected power and imposed and cheered busing. We now know what a great tragedy came about.
Another example is the South Boston Veterans group that ran a parade commemorating the Irish saint Patrick. It barred gay groups from the parade. The media proclaimed that its action was outrageous. Judge after judge in Massachusetts jumped on the bandwagon. They said they would decide who could be in the parade. One wondered why the judges didn't have their own parade.
It wasn't until the case reached the United States Supreme Court that it was ruled unanimously, 9 – 0, that the Massachusetts SJC was wrong. The veterans got back the right to decide who would be in their parade. It was a simple First Amendment issue.
Now these same Massachusetts judges on the SJC have decided that a woman duly elected to her job can be removed by judges. You can read their decision here. Like with all cases, it followed a newspaper editorial demaning  it remove her. But remember in a POOF case they will interpret the law the way they want to justify the result demanded by the media, just as they did with the St. Patrick's parade.
Here's a newspaper's article on the investigator's report that provided the SJC's basis for its decision taking her job from her. The investigator said in his nine page report that she takes "smoking breaks, employees said, [that] happened several times each day and lasted up to 30 minutes at a time." Also, "She admitted scratching lottery tickets at work," another employee complained she "got an "icy stare" and the investigator said she  "showed "poor judgment" by drinking so much at a Christmas party and "a fundamental inability to understand that, as the Suffolk County Register of Probate, she should be a dignified figure at a public party involving her staff rather than a drinking companion." 
It's clear Ms Campatelli has not committed any crimes. She doesn't know the identity of those who spoke against here. She's hasn't even been indicted or had an opportunity to defend herself by cross-examining or confronting those who have spoken against her. One investigator did a secret investigation and she's out.
It boils down to the judges don't like her style.  She smokes, sounds like she is nasty, seems loud, scratches lottery tickets at work, and drinks "too much." I don't know about you but it seems to me that this woman is being treated differently because she's a woman.
The SJC in its footnote said the investigator's findings were in "four categories; (1) adherence to work hours and duties; (2) office decorum and gender/sexual harassment; (3) favoritism/intimidation and fear of retaliation; and (4) the events of December 18, 2013 (when Campatelli allegedly assaulted a court employee)." The investigator said of the events of "December 18, 2013, . . . that the charges against Campatelli were unsubstantiated, but also concluded that Campatelli "exercised poor judgment" on that evening."
I've been around for a long time. I've know a few registers of probate. The job is an elected job involving making sure the records in the probate court are kept in good order. The registers I've known don't do too much and rely on their staffs to do most of the work. The expertise in those courts lies in the help.
Registers are as well known as John O'Brien or the designated hitter on the Pawtucket Red Sox. The register is a politician whose hours are really 24 hours a day campaigning both in and out the office. To suggest Campatelli is not adhering to the hours of the court is to apply to her a wrong standard. To complain because she has favorites or lacks proper decorum are all red herrings.
As a newly elected register, Campatelli was elected in 2012, she had her own style. The long term employess didn't like it. They set out to get her. They cleverly presented a case that she doesn't act like a woman should.
This is an obvious case where a woman is being held to a different standard. If one heard a male register smoked, played the lottery, swore, glared at people, or happened to have a few extra at a Christmas party you'd yawn. It seeems clear because she lost her position because she didn't act like the investigator and judges feel a woman should act.
Normally, if anything near this was suggested there would be a big outcry among women's groups. But notice the silence with Campatelli. Campatelli is being treated by women who should fly to her defense as if she has a contageous disease.  That happens when one is POOFED.