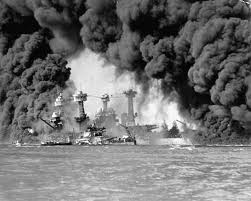 Do you know where the expression "praise the Lord and pass the ammunition comes from?" I knew it was a WWII patriotic song but did not know that it existed prior to the song. The first time it was spoken was during the Japanese attack on Pearl Harbor. Chaplain, Lt. j.g. Howell M. Forgy, was stationed aboard the USS New Orleans during the attack.
According to Lieutenant Edwin F. Woodhead, who was the officer in charge of an ammunition line on that ship, "I heard a voice behind me saying, 'Praise the Lord and pass the ammunition.' I turned and saw Chaplain Forgy walking toward me, along the line of men. He was patting them on the back and making that remark to cheer and keep them going. I know it helped me a lot, too."
Chaplain Forgy later recounted, "our electrical power wasn't on, and so when we went to lift the ammunition by the hoist, we had to form lines of men — form a bucket brigade — and we began to carry the ammunition up through the quarterdeck into the gurneys, and I stood there and directed some of the boys down the port side and some down the starboard side, and as they were getting a little tired, I just happened to say, "Praise the Lord and pass the ammunition." That's all there was to it."
December 7, 1941, over 77 years ago the United States was bombed into a world war that lasted less than five years; we are now involved in ongoing wars in several areas one creeping up close to a 20 year endeavor with no end in sight. But there is another one, urged on us for many years by Israeli Prime Minister Netanyahu, against the country of Iran which is lurking around the corner.  The big question is whether Netanyahu and his new-found co-conspirators in Saudi Arabia can push us around that corner or whether we will stop short and stay on the street where we now stand.
The decider in this will be Trump. This in a sense is fortunate since he is a coward when it comes to fighting and cannot see himself out front in any wars. Ge's lucky because he can point the finger at others for us being in our present under the screen wars.
I'm not exactly sure of the reason he fears war although I sometimes think it is because he still yearns to outdo or demolish everything Obama has done and one thing that yet remains out of his reach is the Nobel Peace Prize which was given to Obama and which has been deprived him even though he has ardently sought it.
On other times I think he does not want to face being the instigator of many American military deaths having refused to wear the American uniform himself. It must be tough knowing you had a fake excuse to avoid serving during Vietnam to decide upon sending America's youth off to do something you were fearful of doing. That may be the only vestige of humanity that remains in Trump if it is there at all as the reason.
We've seen Trump back down over and over again. He walked away from Syria giving it to Assad and Putin. He seems to be walking away from Venezuela leaving it to Maduro and Putin. He now is consulting with Putin over what he will permit him to do in Iran. He needs Putin's okay. Putin though is allied somewhat with Iran so he may demand a whole lot to give it. Will he give Trump the okay to do some type of attack if Trump gives him the okay to invade Ukraine or Latvia?
Trump though may hope to finesse Netanyahu, Saudi's murderer MBS, the Nobel Committee and Putin by going to war as he did in Syria when he launched some missiles which hit some buildings after the people occupying them were told to leave.  He may attack and blow up some abandoned Iranian railroad lines or buildings without causing any casualties to people. After this attack, he will seek negotiations with Iran. Perhaps a summit with an Ayatollah like he did with Kin Jong Un.
The one problem is unlike with Syria, Venezuela or North Korea, Iran might take offense. Trump is betting they won't. But what if they do?