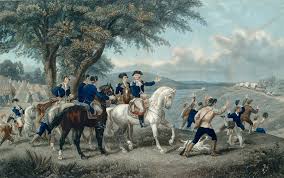 Our first president was George Washington. A very brave man who led the army which fought the most powerful army in the world which was being aided by the Hessians – 30,000 troops hired by the British to fight for it in America with most of them being drawn from the German states of Hesse-Kassel and Hesse-Hanau. Aside from sitting on his horse as an exposed target and being one of the last to flee New York City after the British fleet invaded there; he stood in the open outside Yorktown as the British fired at the American troops. When one cannon ball shot at his group caused all around him to hit the deck Washington stood tall. He went and picked up the ball and gave it to a doctor who was getting up off the ground and brushing himself off. He suggested he might want to keep it as a souvenir.
We were lucky as a country to have such a man as our first president. He was a model for others to follow. Between 1829 with the election of Andrew Jackson and the 1889 election of Benjamin Harrison, a period of sixty years ten presidents had been generals. A hiatus of 64 years would pass before Eisenhower took office in 1953. He would be our last general to serve as president.
Of our first 26 presidents up to Theodore Roosevelt who became president in 1901 on the death of William McKinley only four did not have military experience. They were the two Adams, Martin Van Buren, and Grover Cleveland. The six presidents following Roosevelt did not have military service; while eight of the nine following them from Truman to George H.W. Bush did served. The one who didn't but claimed he did was LBJ who was in Congress and received a Silver Star from General McArthur for being in a plane that may or may not have been near a Japanese plane.
Since Clinton in 1993 only one has served in the armed services. George W. Bush did serve a bit in the National Guard in Texas and was considered  "a top notch fighter interceptor pilot."  The present holder of the office ducked the draft having the influence to gain deferments in the same manner as Bill Clinton. They were not the first presidents who were draft dodgers. That honor belongs to Grover Cleveland who paid a Polish immigrant to take his place in the Civil War. Of the 45 presidents, 13 did not serve in the military.
I wondered if there was a connection between not serving in the military and the ability one had as a president. It is hard to suggest that one exists. The historical ranking of presidents aggregate poll shows that the top ranked presidents, going from 1 to 10, that Lincoln is number one followed by FDR, George Washington, Theodore Roosevelt, Thomas Jefferson, Harry Truman, Woodrow Wilson, Dwight Eisenhower, Andrew Jackson, and JFK. Neither FDR or Wilson served. The bottom ten from worst up are: Trump, Buchanan, Harding,  Andrew Johnson, Franklin Pierce, Filmore, William Henry Harrison, Tyler, U.S. Grant, and Zachary Taylor. Eight of the ten had military service.
Polls are of limited value because as time passes those that served in the 19th century become relatively unknown so they get poorer ratings. The first few presidents are ranked somewhat high, after Jackson up until Grant most occupy the bottom rung. One item that seems to push a person high in the rankings is the connection of the person with a war that is successful. Of the top ten all oversaw or served in the Revolution, Civil, Spanish American, WWI or WWII.
Trump right now is ranked bottom of all presidents. He'll probably stay there because he is everything we really don't want in a president. Who'd ever hold him up as an example for their children. Let's hope he doesn't realize the only way he will ever get out of the cellar is by getting us into a big war.