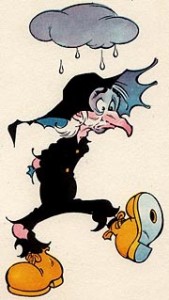 At first blush one would think an oxymoron although containing as part of it the word moron does not incorporate it into any part of its meaning. Merriam-Webster defines moron as: "a very stupid person." It defines oxymoron as: "a combination of contradictory or incongruous words."
Although as pointed out by the Oxford dictionary in providing the history of the word oxymoron one could impart the idea of moron into it. It tells us the history of oxymoron is: "Mid 17th century: from Greek oxumōron, neuter (used as a noun) of oxumōros 'pointedly foolish', from oxus 'sharp' + mōros 'foolish'."  It also provides the history of moron: "Early 20th century (as a medical term denoting an adult with a mental age of about 8–12): from Greek mōron, neuter of mōros 'foolish'. "
Then the question remains why do I suggest the idea of public unions is an oxymoron or something that people with a mental age of 8 to 12 who are both stupid and foolish would link together.
I suppose I could merely say the idea of a police officer earning more than $300,000 a year from his public salary because of a union contract is moronic. "State Police Detective Lieutenant Thomas Coffey took home $351,774 last year . . . He has collected more than $300,000 in each of the last three years, . . ."
Keep things in perspective. "The average member of Troop F received $183,935 in 2017. "  Over 50 of them received over $200,000. The Vice President receives a salary of $225,551; the Secretary of Treasury $191,300. When Hillary Clinton was secretary of state she received $186,600, a little over $3,000 above the average trooper. The basic pay of an Army general is around $186,000.
The highest paid governor in the United States receives around $190,000 while the Massachusetts governor receives around $150,000 and is the tenth highest paid governor.  Six governors receive less than $100,000. Maine ($70,000), Arkansas ($87,759), Colorado ($90,000), Arizona ($95,000), Oregon ($98,600) and Kansas ($99,636).
Now being a detective lieutenant at Logan airport is a very important job with lots of important responsibilities, I assume, although I can't think of many. But when a policeman at an airport is receiving from the public coffers a little less than $50,000 than the president of the United States earns then you understand how this is a prime example of the destructive effect union contracts have on the taxpayers in Massachusetts.
That is because only foolish people would enter into such contracts that pay enormous salaries to people with everyday responsibilities and abilities. How does it happen?
At one time public unions were prohibited. This was done because of the realization that they were totally unlike private unions. In the latter case the persons involved in the bargaining have a stake in the outcome. If a union is bargaining in the private sector the entity it is bargaining with has to consider how much it can afford. The CEO or boss knows how much profit his company will receive and how much it can afford to give to its employees. If it gives too much, it will affect the company's future (and the CEO's salary). The private union bargaining takes place where both sides will be affected personally by the outcome.
With the public unions the employees are not bargaining with people who are giving out money from their own (or company's) pockets. They are giving out other people's (taxpayers) money. They usually are elected officials who are very often dependent upon the union employees for support in their future endeavors especially if they plan to run for reelection. So it is in their interest to make the "other side" happy with the results and in return they will be happy when the "other side" rallies to their support.
Unions are supposed to be in an adversary position to the employer. That is why workers were allowed to organize because it was recognized that an individual worker had no bargaining power by himself. Do away with the adversary relationship and you have what we see in Massachusetts where some police officers make double the salary of the governor.
What you have with public unions is both sides bargaining together to see how much they can reasonably extract from the public till. it is a foolish system.