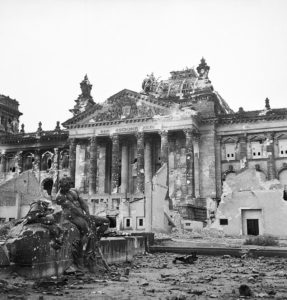 The dearth of watchable programs among the 847 television channels on my television during most of the time drives me to Book TV on C-SPAN2 on weekends where authors present talks on their books.  Earlier this month author Benn Steil talked about his recent book "The Marshall Plan, Dawn of the Cold War."  It was the perfect antidote to today's America First idea that is being propounded by a man who admittedly does not read and probably has no idea what the Marshall Plan was about. It would be one of my fondest wishes that he would have read the book; or, in the alternative would have listen to the lecture by Mr. Steil.
It is ironic that the majority of Americans who grew up during the institution, early days, and subsequent beneficial days of the Marshall Plan, which was a four-year plan that began on April 3, 1948 almost exactly 70 years ago to this date, in other words those over 45 years of age, by 53% to 44% voted for the man who wants to put "America First" without realizing that America's predominance in the world came during their lifetimes after America recognized that by putting others first we would bring about a more stable world that would benefit all of us.
Post World War II Europe was prostrate after the war which began in September 1939 and did not end until over five years later in May 1945. The movies filmed in Europe after the war show the carnage that took place. A Foreign Affair is brilliant in its depiction of the damage in Berlin that still existed in 1948 and the difficult life of the average German in that city. It is also noteworthy for the quote, more appropriate today than back then, "It can't be subversive to kiss a Republican."
The Third Man which was filmed in Vienna in late 1948 gives a sense of the darkness and despair people faced. It too has a memorable quote:  "You know what the fellow said – in Italy, for 30 years under the Borgias, they had warfare, terror, murder and bloodshed, but they produced Michelangelo, Leonardo da Vinci and the Renaissance. In Switzerland, they had brotherly love, they had five hundred years of democracy and peace – and what did that produce? The cuckoo clock."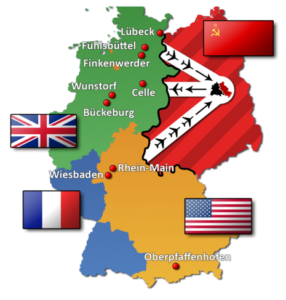 Right after the end of WWII Stalin, Truman and Clement Attlee of Britain met in Potsdam, Germany. France's Charles de Gaulle was not invited at America's request. They agreed that "Germany and Austria were each to be divided into four occupation zones (earlier agreed in principle at Yalta), and similarly each capital, Berlin and Vienna, was to be divided into four zones." In 1948 the United States, France and Britain began to unite their sections into the country of West Germany. Stalin objected to this and also to the idea of the Marshall Plan which was in the offing.
He instituted a land blockade of Berlin. He was hoping to chase the Americans, British and French out of that city. General Lucius D. Clay, in charge of the U.S. Occupation Zone in Germany, summed up the reasons for not retreating in a cable to Washington, D.C. on 13 June 1948: "We are convinced that our remaining in Berlin is essential to our prestige in Germany and in Europe. Whether for good or bad, it has become a symbol of the American intent."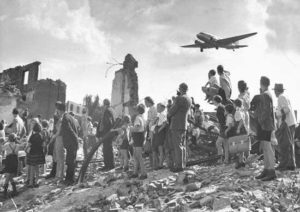 Stalin's gambit failed. The allies began the Berlin Airlift using their planes to supply Berlin with the necessities of life for almost a year until the blockade was lifted. The cost of the airlift was estimated in today's dollars as between 2.3 to 5.1 billion dollars spilt among the US, UK and Germany.
According to Author Steil the Marshall Plan was the cement to General Clay's intention that the United States make it clear to the Europeans that we would not abandon them after the war like we did after WWI. He suggests that was one of the things Stalin counted on and expected after his dealings with the increasingly ailing Franklin Roosevelt who said of Stalin: "I just have a hunch that Stalin is not that kind of a man [to set up an iron rule over Eastern Europe]. I think that if I give him everything I possibly can and ask for nothing from him in return, 'noblesse oblige', he won't try to annex anything and will work with me for a world of democracy and peace."
Unfortunately, some people feel the same today about Putin. The peace of the last 70 years whereby Europe grew into countries with thriving economies can be traced back to America's willingness not to put America first. Steil points out that the Marshall Plan did involve a great commitment by America in goods and money to preserve the freedom of Europe. It did not provide a direct benefit to America other than a prosperous Europe is in America's interest.
In truth, putting America first is a recipe for putting it last. It is the type of idea that the Soviets and Putin have which began after WWII when it stripped its section of Germany of all its machinery and which continued under the Soviets until their system collapsed. How those over 45 can forget their history is quite remarkable.