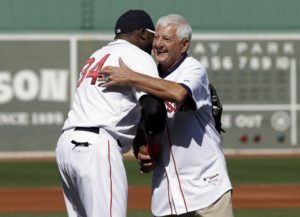 We have no input into what we are. We have much input into what we become. How is it so, so, many people are proud of what they had nothing to do with? How is it they lack any pride at all in what they did have something to do with?
I am writing about two incidents at Fenway Park which have been called racist. I'm not quite sure what happened but they involved as far as I can tell using the N… word against a black outfielder and the next day against a black woman who sang the National Anthem. Now whoever these people are who are using the N. . .  word I assume they are not black. Whatever their racial make up is it is a condition which they had no control over just like the black persons who they feel for whatever reason they have to denigrate had no control over what their racial make up is.
But I can tell you one thing, the black outfielder worked hard to achieve his success and the black singer likewise did the same to enable them to appear on the field in starring roles at Fenway Park. I will bet dollars to M & Ms that is more than you will be able to say about the people with the vile tongues.
It recalls a time that I was standing on the corner in my neighborhood down the street from an MTA (know MBTA) station with some of my friends from what is now called the hood. We didn't use that term at that time. We were just hanging around as we were wont to do when time would hang heavily on our hands and we were not engaged in one or another type of sports activity whether semi-organized or simple like half-ball.
As in any group that grew up in the city whether you were in college, working or on the dole we got along pretty well without discriminating among ourselves. We were friends from our youth so we remained friends despite our different roads. That particular day a handful of us were at the corner. A train had just left the station because a dozen or so people were coming down the hill toward us. Some walked straight by us, others crossed over to the other side of the street.
I wasn't paying too much attention to what was going on until I heard one of the guys who was on the dole and spent most of his time inside the local barroom shout out, "hey look!" I turned and looked at him. He was pointing across the street. Looking there I saw a black man walking from the station with a black metal lunch pail in his hand. He was obviously coming home from a day's work. My friend next said in a loud voice, "Look at that guy. He wants to be like us!"
The N… word wasn't used. I'm not sure the man even heard the comment as he continued along without indicating that he had. But my reaction to it always stuck with me. I thought, "No, he doesn't want to be like you. You're a lazy bum who hangs around and drinks all day. He works."
Of course he was not referring to that. He was thinking because he was white that somehow he was superior to the black man because of that alone. When I hear of the incidents like those that happen at Fenway Park I recall that time.
Did I say anything to him about it? No. Should I have said anything? Perhaps, but that isn't how things were done at the time. Have other similar incidents happened, "of course." Am I free in my life of never having used the N . . .  word or other words denigrating others from different ethnic or racial groups. I don't believe I ever did it to another person's face. When I was talking among friends maybe but that would have been when I was a "wise guy" in high school or at least not after I left for the service where I met and appreciated all kinds of people.
Is one born a racist like into a racial or ethnic group? Is it once a racist always a racist? Is there a purpose behind differentiating juveniles from adults? Isn't that with age and education, hard knocks or otherwise, some sort of wisdom should come? Wouldn't just a smidgen of wisdom tell a person insulting others about which they have no control is plainly wrong? Shouldn't one recognize no matter what the race or ethnic background of a person none are basically different? Is one who prefers to associate with her own ethnic, religious or racial group a racist? Is one who believes his own ethnic, religious or racial group better than others a racist? Is one who takes pride in something he or she had nothing to do with a racist? Or is one only a racist when he or she acts in a racist manner?
A couple of final questions. Is there something peculiar about Fenway Park or Boston that differentiates it from other places or cities that make it particularly racist? If so, what is it? Is there something comforting about pointing the finger at others accusing them of racism while hiding racist thoughts or behavior in one's self?