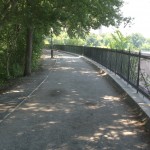 Deadly Alliance by Ralph Ranalli came out in paper back.  I think it may be the best book written about the dealings of the FBI and mobsters like Whitey.  Ranalli was the only newspaper reporter to cover every session of Judge Mark Wolf's seminal hearings that blew off the doors of the FBI's inner sanctum revealing  that Whitey Bulger and Stevie Flemmi were long time informants for the FBI and the circumstances surrounding this inexplicable alliance.  Ranalli shows us an agency reeking of corruption using the FBI motto: "Fidelity, Bravery and Integrity" as a title for one chapter by writing:  "Fidelity First, Integrity Last."  Sadly, it's so true.
There is very little in any of the books that followed this July 2001 book that is not touched upon in Ranalli's Deadly Alliance. I find myself going back to it again and again as I acquire more information and find that it is right on the mark with everything.  No major mistakes or false braggadocio or ego stroking that one finds in the  books that followed.  I look at some things a little differently but for the most part he tells it straight without an agenda other than to make the FBI a better agency.
I'll be quoting a lot from it as I go along.
In the first 30 pages Ranalli tells about the scandalous actions of the FBI that are so sordid you think he must be making it up.  He tells us how the foundation for this corruption was set through the creation of the Top Echelon (TE) program when the FBI decided it would partner and protect some Organized Crime leaders to go after others. He gives us the history of that program that came about after the FBI could no longer do black bag jobs.
We read about the the Boston Gang wars that set the stage for the local FBI' office descent into the nether world of Whitey Bulger and Stevie Flemmi.  He tells about other FBI offices slipping into the same kind of behavior empowering high level criminals.  He suggests the Boston office is the worst of the worst.  We really don't know because without Judge Mark Wolf we wouldn't have known how bad it was.  No other judges have cracked open the doors of other FBI offices.
He gives us a look at Whitey's, Stevie's, Connolly's and Billy's background among others; tells of the relationship between Roger Wheeler and John Callahan, both victims of Whitey; and touches on Sammy Berkowitz, Agent Morris's 25 year TE informant, the mysterious Mr. X at Connolly's trial, who gave Morris money, gifts and free vacation time at his Florida condo.
He writes about how DEA tried to get Whitey but came up short, how Connolly appeared an untouchable in the office, and about the dinners with Whitey.
There's so much in the book it's impossible to cover more than a small amount.  Much of it will come out at Whitey's trial.  If J.W. Carney devours this book which something tells me he will I expect  he'll be adding Ranalli to the defense team.
Ranalli hits the a home run with his book.  Wherever he is today we owe him a giant debt of gratitude.  If you are interested in this stuff then use it as your bible.  Don't expect to feel good after reading it especially if you ever thought the FBI was doing the people's service.