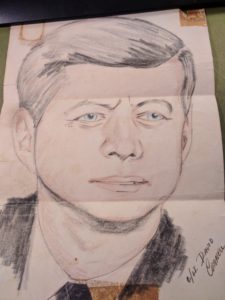 The Kennedy tragedy which I wrote about yesterday brought back memories of the inauguration of John F. Kennedy. I remember how proud my father was that he was elected president. After all, like him he was an Irish Catholic from Boston. It was one of his proudest days. I felt the same way. I'd guess others in my family might have felt the same way.
Kennedy's inauguration was the only one I have ever attended. I was a Marine second lieutenant at the time stationed at Quantico, Virginia. It wouldn't have been too hard to slip up the Shirley Highway into Washington, D.C. other than there had been a snow storm which complicated things a bit.  But we all got there, I believe I wore my dress uniform, and proudly looked out into the future ready to make the sacrifices I might be called upon to do for our country. It was an uplifting time in America.
It was a great day for the Irish. JFK's words in his inauguration address now seem to come from another time and another country. It defies belief today seeing how the present occupant of the office cosies up to dictators such as Putin and Mohammed Bin Salman and their ilk that some other person elected to that office would say: "Let the word go forth from this time and place, to friend and foe alike, that the torch has been passed to a new generation of Americans—born in this century, tempered by war, disciplined by a hard and bitter peace, proud of our ancient heritage—and unwilling to witness or permit the slow undoing of those human rights to which this nation has always been committed, and to which we are committed today at home and around the world."
JFK spoke about human rights – the commitment to others – he'd establish the Peace Corps to follow through on that. He concluded his speech stating: "And so, my fellow Americans: ask not what your country can do for you–ask what you can do for your country. My fellow citizens of the world: ask not what America will do for you, but what together we can do for the freedom of man. Finally, whether you are citizens of America or citizens of the world, ask of us the same high standards of strength and sacrifice which we ask of you. With a good conscience our only sure reward, with history the final judge of our deeds, let us go forth to lead the land we love, asking His blessing and His help, but knowing that here on earth God's work must truly be our own." (my emphasis)
How unlike the guy in the office today who had this to say to the citizens of the world during his inauguration speech: "We assembled here today are issuing a new decree to be heard in every city, in every foreign capital, in every hall of power – from this day on a new vision will govern our land – from this day onwards it is only going to be America first – America first!" He ended his speech with these inspiring words: "Together we will make America strong again, we will make America wealthy again, we will make America safe again and yes – together we will make America great again." (my emphasis)
Ironically the present incumbent who has gotten us mired in this pandemic said: "We stand at the birth of a new millennium, . . .  to free the earth from the miseries of disease, . . . "  To do that he eliminated the NSC team, called the Directorate for Global Health Security and Biodefense, which oversaw the country's preparations for pandemics. It was noted: "The unit had three main duties: to provide constant surveillance for a quick pandemic response; unify government agencies under one command; and to ensure that the White House conveyed scientifically sound information to the public."
When asked about it he said:  "I'm a business person — I don't like having thousands of people around when you don't need them. When we need them, we can get them back very quickly." Unfortunately when we needed them they were nowhere to be found. There's still no unified command. Is Kushner, Pence, Trump, or trade adviser Peter Navarro in charge?
Trump's type thinking would apply to firemen, ambulance drivers or the armed services to mention a few who stand around preparing and waiting until they are needed. It was it that type of thinking that made us so unprepared for this virus?
But looking back you have to ask did JFK really say those things? Was there once a time when America looked outward to the world to bring  it freedom?