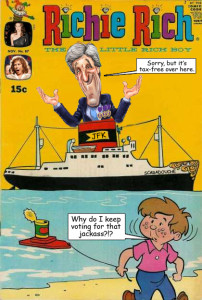 I must admit I should have had a premonition that this was coming.  A source of mine over at the Island of Nantucket told me about a month or so ago he heard Secretary of State John Kerry singing that old song that begins with the words: "Days are long since you went away, I think about you all through the day, my buddy, my buddy, my buddy – Sergey I miss you so."
I laughed when he told me that. I told him: "How could he miss Sergey Lavrov? Putin's Russia is not our friend. Putin's the world number one troublemaker even trying to let Greece collapse so that he could bring it under his control. He has been preaching that the United States is the great Satan even more so than the Ayatollah in Iran."
Saying the word "Iran" made me stop short in my tracks! The negotiations had not been completed but were at a critical stage as we were talking. My fisherman buddy nodded: "You got it. We need Russia to get the Iran deal. You got to figure we're going to pay a big price for it."
It now appears John and Sergey are in touch a lot these days. Did the clever Sergey lure John in by playing hard to get? Did we think we direly needed Russia's help putting the final touches on the Iran treaty? Did our lust for it blind us to what damage could come from it?
"According to the White House, President Barack Obama "thanked President [Vladimir] Putin for Russia's important role in achieving this milestone" during a July 15 telephone conversation. This was followed  a couple of days later when Putin and members of Russia's Security Council — including Russia's top military, intelligence and security officials, . . . — " noted again that the leading role and constructive position taken by the United States played a big part in making it possible to finalize the agreements" during a meeting chaired by Putin."
It makes me a little nervous when the Russian leaders who have been demonizing us so that only 15% of their people have a favorable view of the United States begin to say nice things about us.
We know trade is the reason why France, England and Germany went along  with the deal. They are looking to Iran and its almost 80 million people to help their home manufacturers. China also is looking for other overseas places to sell its wares so it had no problem. But Russia, it has nothing to sell but turmoil and oil and allowing another oil producing nation an opening to the world markets seems to be against its interest.
I was for the Iranian deal as you know I saw it as a way to avoid going to war with Iran. I saw it as tying the hands of the next president who will be under tremendous pressure to attack Iran by the members of the Netanyahu Party in Congress and the big money supporters of the Republican Party who are Israeli-firsters.
The deal prevents Iran from developing nuclear weapons which after all was the purpose behind the negotiations. I also see it as being in Israel's interest in the long run to have an Iran more involved in the world than isolated. Israel has been able to make peace with former adversaries before so there is no reason that such a rapprochement could not come about. In fact, Netanyahu is just the guy who could bring it about like Nixon did with China
The puzzle is what did Putin get out of it? That is what I want to know. I ask myself how can I want to see the Iranian deal go through when I have no idea whether there was a secret deal? Did Obama and Kerry give Putin: a free hand in Ukraine; (Britain's Independent on Sunday newspaper reported that Ukrainian military authorities believe the number of Russian troops within and close to its borders has risen to more than 50,000,)  a guarantee not to topple Assad; a lifting of the sanctions; or something even more worrisome.
While thinking that I had one of those eureka moments. Russia was always going to go along with an Iranian deal. Whether it got some extras in a secret side deal is only icing on the cake to it but does show the weakness and blindness of our negotiators. (Kerry's obtuseness is well know as shown when as a Massachusetts senator with a residence on Nantucket he registered his yacht in Rhode Island to avoid taxes.)
The deal was the thing. Whatever it took Kerry and company were going to get it. One thing they were going to show was that Israel could not push them around. Obviously that is good; American negotiators should make deals that are good for American and not Israel. But by looking over their shoulders at Israel; and playing nice with Russia; and Kerry having visions of a Nobel Peace prize dancing in his head, the Iranian deal was signed.
Even Israel, the most obdurate opponent to the deal was blinded by its true ramifications. This deal may go down as the worst ever executed by an American government; the equivalent to the Louisiana give away by France. Perhaps it is the Russian revenge for giving us Alaska.
(Continued tomorrow)