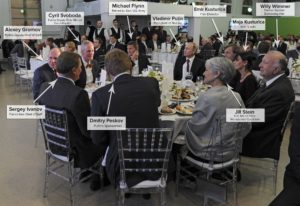 A few days ago a person commented:  "Jill Stein and Flynn were at the same table in Europe at a conference. Putin came over for one minute to have his picture taken. Neither of them had a conversation with Putin."
Here's  a photo of the image. If you click on it you get a better view. The  person noted they were at a conference in Europe. That's correct. But the more accurate description was that it was in Moscow, which by some reckoning is in Europe while others suggest it is more in Asia. Now to you does it look like Putin came over for his photo. It doesn't to me. Nor did it to the writer of this article.
Did they have a conversation with Putin? According to General Flynn who sat next to Putin and was the first to jump to his feet applauding when Putin finished his talk: "I was one of the guests there. … Some interesting characters. I found it a great learning opportunity. One of the things I learned was that Putin has no respect for the United States leadership. Not for the United States, but the leadership."  Now how do you suppose he learned about Putin's disrespect for Obama and Clinton if he didn't talk to him?
Why not come out an say "yes Flynn and Putin sat next to each other at the head table in Moscow and had a nice conversation?" Why are they trying to hide this? Why are they rewriting history to try to make us think Flynn was some innocent babe in the woods?
Think of the date of the dinner. It was in December 2015. It was about six months after Trump announced his candidacy for the presidency. Flynn met with Trump in August 2015 for the first time. In February 2016 Flynn became and advisor to the Trump campaign.
The FBI opened an investigation on Flynn on August 16, 2016. In my book it should have opened it in December 2015 when it say, if it was paying attention, and American general sitting at the head table of a dinner with Vladimir Putin. What would you think if a Russian general sat at the head table with an American president other than Trump. I know if it were Trump you would not have a second thought about it because it is something you would expect.
What's Flynn doing in the meantime?  He's not pursuing America's interest but trying to build up a little piggy bank for himself.  On August 9 he enters into a contract to lobby on behalf of Turkey. On September 19, 2016 he meets with Turkish officials to discuss possibly abducting the Turkish president's political enemy. On November 8 he pens and op-ed about supporting Turkey. The newspaper after that noted that "Flynn had failed to disclose to the newspaper that he was undertaking "consulting work that might have aided the government of Turkey."
That's just some stuff we know about Flynn. After President Obama imposed sanctions on Russia, Flynn who Trump earlier said was going to be his national security advisor rushed to meet with the Russian ambassador to tell him that Trump planned to undo President Obama's order.
I do not know how people can find anything good in what Flynn did or question any investigation into him. He is so bad that I am really surprised Trump has not brought him back onto the team. Then we will be told he never left it at all.