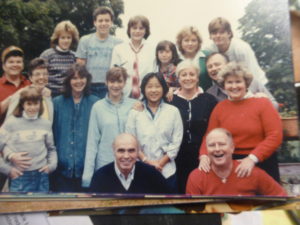 If you've been with this blog a bit and look at the photograph here you may say "Hmm, that looks familiar." You'd be right. I used it about four months ago when I wrote about a law school classmate, Jimmy Dean, who had passed away. It doesn't make me happy to have to be using it again.
Jimmy Dean is in the front on the right in his red sweater his wife Peggy has her hands on his shoulders. Over Peggy's right shoulder is John McGuirk who has his hand on his former wife Pat's shoulder. They are surrounded by five of their children. The photograph was taken at Camp Rye'n Water one of those hidden luxurious resorts located on Lake Pawtuckaway in New Hampshire. That camp was owned by another classmate from Boston College Law School, Joe Ryan, who made it available gratis. His generosity gave our families a week or two away from our nascent law practices and the city's heat. It also allowed us to continue our relationships which otherwise we would have not done because of the distance and the demands of family and law practices.
At  law school in the first year our class was divided in half alphabetically. I first came to know Jimmy Dean and months later John McGuirk. Both were from the New York City area and had come from Manhattan College. They would return there to practice law. It seems odd that John would pass away shortly after Jimmy, perhaps in the same amount of time that it took me to meet him after I met Jimmy.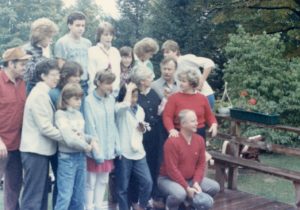 John and Pat stayed together for many years but the time came when they separated. That brought me some sadness because I was fond of both of them. They remarried but stayed in contact. They spent last Thanksgiving together with the children at the family home that Pat stayed in. I spoke to Pat a few months ago and she told me John was in a wheel chair.
John would marry Joan Cusack. Because John would come from New York to vacation nearby my Cape Cod home we got to meet her several times. John had married a woman as nice as Pat. She seemed perfect for him which made us happy. We remarked about how kind and caring she was toward him during his difficulties. He was lucky to have met such a wonderful woman. I can't mention her without thinking of her Long Island accent which  intrigues me.
When I last saw him a month or so ago I knew he was in a wheel chair caused by a stroke but did not know how else he was affected by it. To my delight he was as sharp as ever. As with old friends no matter the time difference you pick up the conversation as if it was only a day or two since you last talked. John could not resist telling us again how he was the youngest one in our class.
Along with Joe Ryan and my wife Maria, we had nice dinner spent mainly laughing and joking as we had done in the past. We also had a couple of beers. He was in a buoyant mood giving as good as he got. We were happy to see him doing so well. We parted looking forward to getting together again. There was not a smidgen of doubt that under Joan's care we would meet. The news of his sudden passing was stunning.
My times with John were always joyous. I don't think I ever sat down with John without having a beer. He was one of the few, if not the only one, who I did not address by his first name. I always called him, "McGuirk!" He'd always call me by my last name. How that started I have no idea. Perhaps that was the way he always addressed people. He'd call my wife "Wozniuk" whenever talking to her. I was amazed that after not seeing him for twenty-five or more years he still remembered her maiden name.
John was part of the law school social group that I wrote about when talking of Jimmy's death. We'd continue to stay in contact when the kids were young thanks to Joe's camp. I  stayed at John and Pat's house nervously waiting for my wife to come back from Ukraine. She was landing at JFK airport; I recall the trips with the family to West Point for the Army games against Boston College in a big RV driven bravely by Joe Ryan.
John did his military service after law school in the Army and was an instructor at West Point. We always had a good parking spot for our tailgating.  Pat's delicious Manhattan clam chowder is still remembered for the way it chased away the cold air. At one game we sat in the same section as a bunch of old rich guys who had come up on a Forbes yacht from New York City with their new exhibit wives and female friends. The program for their excursion read: "Trip on the Hudson to West Point for the Army vs the Boston Team." It could just as easily read "Army vs Another Team." Obviously they were just out for a fall cruise and had little interest in the game. They left before half time.
Speaking of the Hudson River, John lived in Cornwall on Hudson. His home was high on hill with a very large open back yard that gave a spectacular view of the river and the surrounding mountains. It is a beautiful part of our country.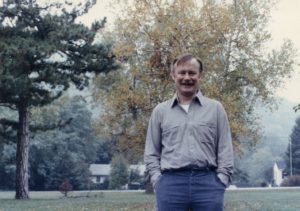 After practicing law for a bit John while still young at the practice made a fateful decision. He became a judge. He would stay a judge the remainder of his career retiring from the New York Supreme Court. He received a Lifetime Achievement Award  from the New York State Senate. I didn't know that until writing just now. John was not the type who would brag. He was a judge of many years. He never let that change him. What we most talked about at our last dinner aside from old times was his recent trip on a veteran's flight to Washington, D.C. He told how proud he was and what a great time he had being in the company of others who served the nation in uniform.
The death of a friend brings back many happy memories which eases the sadness.  There are many more I treasure and could share. Best just to stop. To paraphrase John Donne  and sum it up, "any friend's death diminishes me, . . . "
Rest in peace McGuirk. I'll miss you. It was fun.