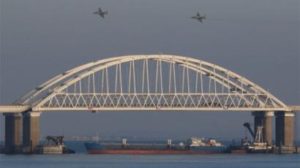 According the Encyclopedia Britannica a " Blockade, ,an act of war by which a belligerent prevents access to or departure from a defined part of the enemy's coasts."
The coast of Ukraine is on the Black Sea and the Azov Sea. Ukraine has ports on both of these seas. When Russia seized Crimea from Ukraine it had no land link to it. We've heard from some suggesting Russia had a right to seize Crimea because it had given it to Ukraine while Ukraine was a member of the Soviet Union. Those people always find a reason to excuse any Russian action.
When Crimea was invaded by Russia and annexed to it the best response the Obama administration could come up with is the application of sanctions against some Russians. The EU and NATO also responded in a like manner. Emboldened by this Russia started a war in eastern Ukraine which still simmers to this day. This too is justified by Russian apologists on the ground that a majority of the people living there are of Russian descent and speak Russian. (I wonder if they'd feel the same way about Arizona or New Mexico being seized  by Mexico.)
The present administration in Washington has sought to lessen these sanctions while refusing to impose new sanctions for Russia's involvement in our 2016 election. More recently Trump's willingness to look the other way when the Saudi leader Muhammad bin Salman had an American resident executed in a Saudi embassy in Turkey and lie about the CIA's findings of his involvement gave a bright signal to the Putins of the world they could do what they want and he'd give them cover.
Russia after seizing Crimea built a bridge connecting  it to Crimea. It was dedicated in May by Putin. As is shown by the photo above it has placed a tanker under that bridge blocking Ukraine from gaining access to Ukrainian ports. I'm not sure how this will be spun by Trump and other Russian apologists but its actions have no justification and are, as the definition noted, an act of war.
Within the last day or so Russia attacked Ukrainian ships that have tried to get to their ports. It has killed six Ukrainian sailors and seized sixty-five. It has  seized or damaged at least three ships. This is all being done against international law and pursuant to  Putin's madman plan to reconstitute the Russian Empire by damaging Ukraine's economy and weakening that country's ability to protect itself.
History teaches us that letting bully countries harass and attack smaller countries just whets their appetite for more conquests. To stop them other countries must act boldly and decisively by economic punishment and by ostracizing it. Our country should lead but if Trump's queer affinity for Putin and his penchant for lying is any indication he'll blame Ukraine for the problems. He'll say "maybe Russia did blockade Ukrainian ports and maybe it didn't" in the face of the evidence shown above.
Putin's folly was his seizure of Crimea and smoldering war in east Ukraine. His action united Ukrainians as never before. It has even allowed it to recapture its Orthodox Church's freedom which had been placed under the Russia Orthodox Church. Putin has made the world recognize that the Russian and Ukrainian people are separate just as the Irish and Scottish and British people are separate.
Not even with Trump's help will he ever be able to suppress Ukraine now but he can cause a tremendous loss of life. America can stop Russia in its tracks with harsh sanctions. This it should do. Its failure to do so will inevitably lead to massive bloodshed. Its failure will be because Trump is compromised.