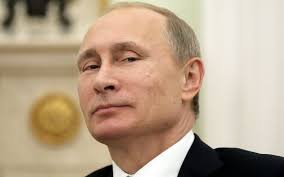 Some out there agree with Trump that we can have good relations with Russia and not compromise the many ideals we profess to have as a nation. I suggest this is as foolish as the FBI's belief you could partner up with high level organized crime figures such as members of the Mafia  or vicious criminals as Whitey Bulger and Stevie "Benji Ditchman" Flemmi. We know what happened to the FBI when it started its partnership with the latter two as part of its Top Echelon Informant program. It came out smelling like a benjo ditch.
For those who wonder what that is I provide the following definition: ""benjo ditch," it is a shallow, gently-sloping ditch that funnels water and human waste from the cities in Japan out to the fields for use as fertilizer. These ditches line the roads in town, and if you're lucky, you'll find most of them covered with small concrete slabs." Having had the experience of spending over a year in Japan and driving my early 1950s Mercury through the countryside around Tokyo I was quite familiar with the stink emanating from these open sewer systems. I had forgotten about it until I got involved in the Whitey Bulger case.
That case being over I again am reminded of it when I think of Putin and Russia. The same odor emanates from them. Putin's Russia is plain and simple a gangster state. It is run by and for gangsters. The simple proof of this is the way it has cheated in the Olympic games. It is not the athletes who are cheating but the nation.
What good is winning if you are cheating. I know some guys liked to win at all costs even in pickup games of one on one. I've never understood what satisfaction they got from that knowing they lost but deluding themselves into thinking they won.
What thoroughly boggles my mind is a nation cheating to win in a sports event. I think a British athlete Jo Pavey put it best:  "As a clean athlete you want to go out there and feel like you are competing on a level playing field and the thought that a nation itself would be systematically doping its athletes is absolutely shocking."
Pavey hoped the other athletes were not cheating but she could not imagine a nation would cheat. What kind of nation cheats other than a gangster nation?
Pavey participated in the 2012 Olympics in London and lost out in a bronze medal to a Russian who was doped up. She deserved to stand on the podium proud of her accomplishment but the Putin state cheated her out of it.
Paula Radcliffe another British athlete said:  "Always suspected it but finally confirmation that the Russian Athletics Federation have denied me of my finest moments of my career." You want to deal with people who did this?
The Russian gangster scam which one paper said "senior Russian officials carried out one of the biggest conspiracies in sports history" worked so well in 2012 it decided to double down at the Sochi Winter Olympics also known as the Putin Olympics. There the gangsters having the games in their own bailiwick could not resist the chance to run wild and deprive clean athletes of their day in the sun.
What kind of people are these that cheat on a nation-wide basis from the top officials down to the athletes in the arena. In 2016 "more than 110 of the 387-strong Russian team have been banned from the Games" which were held in Brazil.
Next year in Pyeongchang, South Korea, the Russians have been banned as a nation. Its clean athletes can compete but not under the Russian flag. The Olympic Committee noted: "Despite repeated Russian denials, the Schmid report has found evidence of "the systemic manipulation of the anti-doping rules and system" which back up previous allegations of government involvement in cheating in the run-up to and during the Winter Olympics almost four years ago. . . . This was an unprecedented attack on the integrity of the Olympic Games and sport." (my emphasis)
You will notice one constant throughout many of these investigations is the Russian denials despite overwhelming evidence against it. The bottom line is a nation that will cheat athletes from other nations of the honors associated with years of hard work could only be run by people without any conscious or conception of right or wrong. Those are gangsters. If the United States tries to deal with the Russians it too will put out the same odor to the world as the Russians.