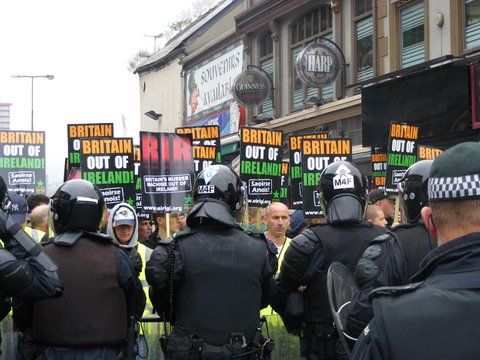 Happy Saint Patrick's day!
This is a special day for those who are Irish. Chicago colors its river green; New York has its famous parade although the route gets shorter every year. Last time I was in the Big Apple on this day I was with my friend Timmy O'Leary and there was a huge abundance of green. What I noticed most was the Catholic schools were keeping up their tradition of marching in the parade. All the alumni who marched behind the students were white and part of the Irish Catholic city folk who packed into those schools. Now a stark difference was readily noticeable. All the  students marching in front were black and Hispanic. Nothing could tell better of the changes in that city has undergone than that.
Boston celebrates the day as the day the Irish drove the British out of the city. It also reminds the Irish that they failed to drive the British out of their island. There are still marchers with posters that remind the Irish that the job was not completely done.
Although we believed that we had driven them out of Boston, we could never shake the idea that like in Ireland we did not complete the job. We now know it.
Still carrying the grudge from the time the Irish manned the cannons in Southie on Dorchester Heights and chased their relatives out of our city the Boston Globe finally showed its true colors. It had an article with the headline "How Americans pushed the Irish to war" written by Ruth Dudley Edwards.  She says of the Irish Americans who supported the war for Irish independence that "they have been a force for evil since the mid-19th-century"  That was nothing as she went on trashing Irish Americans as if there had never been a Black and Tan.
Who was this woman the Globe scoured the earth to find so it could publish a scurrilous article maligning  the American Irish so near to our special holiday, I wondered.  
"Previously, I had never heard of Ms Dudley Edwards. She is an Irish historian and writer, born and raised in Dublin. . . . Most of her work involves painting a sympathetic picture of Unionism and Loyalism. She also wrote The Faithful Tribe, a meticulously planned celebration of the Orange Order, a sectarian, anti-Catholic organisation that preaches that bigotry much more than honouring the heritage and courage of the Protestant Northern Irish. 
Some Irish people have a name for people like Dudley Edwards: "West British." It's used as a perjorative for Irish people who are said to be culturally or politically sympathetic to Britain. Of course, my dislike of Dudley Edwards . . . comes from another name for people like Dudley Edwards, and this time it was coined by Mao Zedong – revisionists, or people who try to alter the truth of history. Because that's unfortunately what Dudley Edwards is. She's a revisionist historian, one of many whose work involves trying to gloss over the human rights record of the British Empire. This is best exemplified by a line from the article she wrote in the Daily Mail regarding that much: "For the truth is that, as empires go, the British version was the most responsible and humane of all. With all its deficiencies, it brought much of value to most of the countries it occupied. Also, it all happened a long time ago and no one should be forced to apologise for it."
The writer went on:
"Former Mayor of London Ken Livingstone asserted that Ireland's treatment at the hands of Britain over 700 years was worse than the Jews' treatment under Hitler. . . .  But the simple truth is that under British rule, the Irish endured centuries of successive wars, famines and massacres. Oliver Cromwell's actions in Ireland would, by today's standards, be classified as crimes against humanity and genocide. And when you consider the other wars, famines and massacres that Britain levelled . . . you realise that Britain was ruthless and vicious in putting down people who simply refused to be ruled by a foreign power. So I think Dudley Edwards is totally wrong in her assertion that the British Empire was somehow a benevolent hegemon."
There's more in that article and elsewhere to show the woman is virulently anti-Irish Catholic and pro-British.
Letting Dudley Edwards write her column is like giving David Duke a column to write before Martin Luther King Day, or Iran's Sayyed Ali Khamenei  before the Fourth of July, or a Holocaust denier before Yom Kippur. What possible reason can be attached to this decision to allow this woman to debase the American Irish on the eve of Saint Patrick's day other than a strong and virulent anti-Irish attitude at that paper.
And  I would add that because it was from the heights of South Boston the artillery manned by the Irish was posed to wipe out the British fleet the Globe's hostile attitude also included everything connected with Southie.