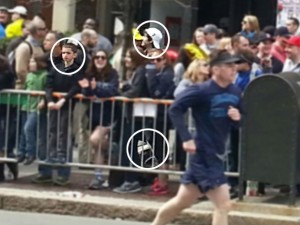 Nancy Gertner former federal judge who leans left questioned whether Dzhokhar's trial was necessary because he offered to plead guilty to life in prison. The simple answer to that is it absolutely was necessary. Without a trial we would forever be inundated by conspiracy theorists suggesting he had nothing to do with the bombing (if in fact there was a bombing and not something that occurred on the back lot of a movie studio) and was coerced into pleading guilty. It was positively essential the evidence of the bombing and his guilt be presented to the jury and the public. Kudos to the Boston U.S. attorney for not falling into that trap.
Her real point which she gets to later follows the newspaper's big press to influence the jury to save terrorist Dzhokhar. She writes: "He was 19, just barely past the date at which the law acknowledges an adolescent's immature brain. But while the law recognizes 18 as the cutoff point for the death penalty, neuroscience suggests that the period of relative brain immaturity stretches into the early 20s."
I, my brother, my friends were 17 when we joined the military rather than being drafted. Perhaps we, and millions like us, should have notified the draft boards that we were not available to serve during "the period of relative brain immaturity." I guess because of that immaturity we weren't smart enough to do that. I also think that points to what many seem to believe that if wars were fought by old men there would be less of them.
Gertner finds lots of company in the media and with politicians and clerics who want us to be merciful when it comes to executing someone who in an act of war, designed to advance the cause of those who are at war with America, murdered Americans. I hope these people don't have a problem when our 17-year-old American soldiers execute those in foreign lands with whom we are at war with.
As for me, I oppose the death penalty in most cases but there are some murders or murderers that are so horrific that I believe it should be imposed. There was a young 16-year-old girl working at a convenient store in the Worcester area who was taken from her job by some vicious animal and found raped and murdered in the woods nearby. That's one type of case which makes my blood boil and having that person face the death penalty would be fine with me.
Keep in mind it was the death penalty that scared that pig Steven Flemmi into telling us some of his horror stories. John Martorano also feared it as have many like-minded low life-thugs who have taken the lives of others. Having it, as the federals do, makes sense especially if it is reserved for the most heinous offenders like terrorists.
As you should recognize, our war against terrorism is not going too well. Since we declared it after 9/11 the numbers of terrorists have increased to such an extent that they now have armies on the field fighting. We have been horrified by the brutality and bloodbath of IS. A mass grave holding up to 1,700 soldiers captured and executed by IS is being unearthed in Tikrit, Iraq.  We have awakened a sleeping monster in the form of radical Islam by our folly of being involved in killing Muslim people on their lands.
Dzhokhar's action was treated as a crime which it was but it was also something greater than that. He was working as a soldier in the army of terrorists who we are at war with. He was acting in a combat role when he set off the bombs among innocent civilians. He was operating on behalf of an enemy of our country.
It is only a matter of time before the soldiers of IS, al Qaeda and other terrorist infiltrate our homeland in strength.  When blood again flows on our streets in an ever-increasing slaughter caused by these enemy soldiers will we remain so above it all and insist on these lengthy trials and then debate about the penalty for those who set off bombs in crowds of civilians? I have no answer for that since we have yet to be tried.
I initially urged that Dzhokhar be sent to Guantanamo and tried by a military court. Many told me I was wrong in suggesting that. They said that the way his case was handled is the way we do should do business in this country because it shows the world we are a nation of laws even though the terrorists care little about that. That's all true but it overlooks that we are at war and during those periods the bottom line is to survive and not to impress.
As for Dzhokhar himself, I would want him put to death if I thought that would deter other terrorists from coming here. I'm sure that it won't. Keeping him alive or killing him will make him a martyr so that strikes both ways. Do we kill him to revenge the deaths he caused, perhaps? Rehabilitation and restitution have little to do with the matter.
I believe there is only one reason he should be executed. It is to send a message that we are serious people. We want those who make war on us on our homeland to understand that they  will die if they murder Americans.
Al Qaeda struck at us on 9/11 because we'd run from them in Lebanon and let them bomb our ships, embassies and even set off an underground explosion in the World Trade Tower without striking back. It is our failure to send a message that made Osama bin Laden believe he could act against us with impunity. If we are truly to be Boston strong we must show we are strong enough to execute one who in an act of war acted with deliberate premeditation to murder people who were peacefully watching a marathon.