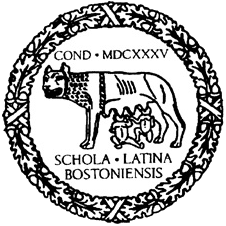 So few people in history have been irreplaceable that they number probably under one hundred. There's an old poem "There is No Irreplaceable Man."about putting your arm in a bucket of water and taking it out and look back at the hole in the water to see the measure of how much you will be missed. Life goes on and one person is easily replaced by another and the same old, same old continues.
It is with that in mind that I write about the resignations of Headmaster Lynn Mooney Teta at Boston Latin School (BLS) and the Assistant Headmaster Malcolm Flynn. Teta was at the school for nine years and Flynn was there for fifty-two years under four different headmasters. This is a disruption and may not be a disaster; however even though both are replaceable there is little doubt that Boston Latin School's light has been dimmed.
Mayor Martin Walsh and Superintendent Tommy Chang are directly responsible for this. They cowered in the face of a federal investigation of that school brought on by specious charges. Also responsible is the Boston U.S. Attorney Carmen Ortez who launched a federal investigation into the doings at Boston Latin School as well as the Boston Media which buckles to everything done by Ortez's storm troopers.
I wrote earlier of the dangers of accepting a federal investigation rather than fighting it. Walsh of course has his own problems with the federals so he more or less lets them run rough shod over him while he hides under his desk. He hires former federals for advice on how to save his own butt. His background shows he does not understand the essence of BLS so he has not and will not fight for it.
Walsh said he met with Teta three times  in recent months, once BLS graduation last week. He should have been meeting with her constantly to support her. He said she did a nice job at BLS and had a difficult year but found no need to assist her. He was so oblivious of the pressure he put her under that he has no idea why she resigned.
The question Mayor Walsh must ask is whether he can operate properly anymore. He has been so shaken by the federal investigation of him that he fails to stand up for the good people like Teta and Flynn. Running from the BLS assault by the federals is shameful.
Tommy Chang basically is not a fighter. We have heard from him that he thought the racial disparity at BLS based on it taking in the best and brightest students had to be examined. He is young and naïve and seeking to please so he is an easy pushover. Boston means nothing to Chang but a stepping stone on his path onward and upward; unaware of the tradition of BLS to him it is just another school.
He too had no idea why Teta resigned. He said: "she loved this school and was a graduate of this school."  Why did he not stand up for her and know more about her situation?
The easy way for Walsh and Chang was to let the federals take over. I warned of this. We have seen how once a federal investigation begins all those criminal statutes come into play such as lying to a federal investigator or interfering with a federal investigation. I urged the administrators and teachers to get lawyers to protect them. Although it is unlikely any of them will be indicted the threat of such hangs over their heads with every question they are asked.
Teta and Flynn were good people who were treated like criminals by the federals. Flynn said of Chang: "Particularly hurtful has been your failure to speak out, to recognize publicly that the characterization of Boston Latin School recently in the media has been utterly false." 
Flynn described, as I predicted, what was happening saying there was "a tense and torturous scene at the school, where he said in the past few weeks at least 15 to 20 teachers have been questioned by Office of Equity officials — and federal investigators — about "every little thing a student said or a teacher said.'' Some of the complaints were five or six years old."
How did the federals treat Flynn? He said: "he was grilled by the Office of Equity three times and spent seven hours with federal investigators, who questioned him about how he handled discipline at the school."
This is a disgrace. There is nothing that any of the faculty or staff at BLS did to deserve this type of inquisition. What is it that gives Ortez the right to intimidate and harass these educators who have dedicated their lives to producing the finest students? What right does the federal government have in deciding the type of discipline to be administered in our Boston schools?
Most astounding is the silence of the media. The absolute gem of the Boston School system BLS is being attacked and damaged. It has abetted this by sitting silently and watching as an unwarranted and ill-informed federal outsiders trample upon it.
Where also are the BLS alumni? They know the value of the school. They know what it gave to them. This is not the time for silence. Had they benefited from their classical education they should know that they must rage against this destruction of their alma mater.