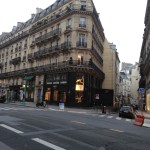 A man is killed in an apartment in front of law enforcement officers by a law enforcement officer. It seems a pretty simple thing to figure out.  You talk to the law enforcement officers who were there and you know what happened.
But this is the FBI that's involved.  The Boston Globe reported today: "The FBI declined to comment Thursday on the Orlando shooting, beyond saying that an FBI team from Washington continues to investigate what happened in the apartment."
To the readers of this blog that should sound familiar. I've been writing how it is still investigating why Mark Rossetti was a Top Echelon Informant for the FBI after the FBI said it would never have people like Whitey and Stevie Flemmi as informants again and Rossetti was another Whitey. That investigation began back in 2011.
The FBI is still investigating what it did before and after the April 15 Marathon Terrorist Attack. We wait patiently for information about that. There are many unanswered questions.
Do you get the idea that when the FBI says it will tell us "when its investigation is over" is the same thing as saying "when the war on terror is over",  that is, it is just a euphemism for never going to happen.
The thing that most astounds me is that no one makes an issue of this. I have to wonder if the FBI has everyone in mainstream media living in terror of it. Can you imagine the Boston police telling us they are "investigating" something as simple as the shooting of man who was being interviewed by four Boston cops. Ed Davis would be out there giving the full details of what happened within hours of the shooting. The Boston media would be all over him if he wasn't.  But when it comes to the FBI the timidity of the mainstream media is astounding.
Now what do we know about the Florida killing. Here's the latest from CBS News: "CBS News senior correspondent John Miller, a former FBI assistant director, reported on "CBS This Morning" that the man, Ibragim Todashev, . . . died in the shootout. . . .  the FBI . . . said that the individual who died was being interviewed in connection with the investigation into the April 15 attack. An FBI special agent was accompanied by two Massachusetts State Police troopers and other law-enforcement officers to interview Todashev in the apartment complex where he lived. In the encounter in the apartment, something went wrong, . . .  the interview subject initiated "a violent confrontation." The FBI said the agent "sustained non-life-threatening injuries" during the confrontation and was involved in the shooting but didn't provide any other details.  . . . An official told CBS News that Todashev came at the agent with a knife. Miller reported that the FBI went to the apartment after midnight Wednesday morning to question him. Todashev had been on the bureau's radar since Tsarnaev was identified as a suspect in the bombing."
Wait a minute. The Boston Globe reported that: "Last Sunday, FBI agents called Ibragim ­Todashev to schedule what they said would be their last interview . . .  said his friend, Khusen Taramov. Todashev agreed to a Tuesday night interview, but only at his Orlando apartment, because he feared that if he went to an FBI office, he would never be let out, said his friend. As the 7:30 p.m. appointment approached, Todashev considered skipping the meeting. "He thought something bad was going to happen," said Taramov. "He thought they were going to make up some charge and arrest him."
Confused?  A former FBI assistant director says the FBI showed up after midnight; Todashev's friend Khusen says the appointment was for 7:30 pm.  We don't even know what time it was when this man was shot and killed. Further, did you notice in the CBS article that most of the information was attributed to John Miller, the former director, while the matter of the knife was attributed to "an official." Why didn't the former director say that. Could it be that there is a problem with the knife scenario?
There is another view of this man.  Here's an article with information from other  people who knew him.  It presents a different view from what we've heard from our local media that was quick to tell us he was a violent man who had confessed to Waltham murders. There's also another view of what happened at the time Todashev was killed. That tells of all the various stories we have heard.
But read this article and you see that there was probably no connection at all between Tamerlan Tsarnaev and the murder of the three men in Waltham. That was a drug deal gone bad. Tamerlan knew the guy but wasn't a big drug dealer judging from his life style.
The FBI faces a big problem with this killing. It's difficult to justify. It may have no connection to anything in Boston at all so a story has to come out that will be fool-proof, that takes time. The truth is always easy to tell since you don't have to figure how one thing fits with another. You don't need special teams from Washington, DC to massage the facts.
So when you've really screwed up and killed a guy then you put it under investigation. You depend on it to slowly disappear from the attention of the media. And you go own to pretend it never happened.