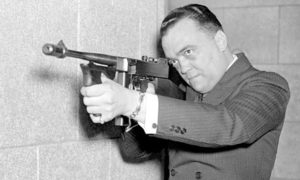 I have written about this in the past. It is the FBI's penchant for protecting top level criminals in exchange for those criminals giving it  information about others. It is an absurd program that was created by J. Edgar Hoover back in the 1960s when he got embarrassed by the Mafia. His first instinct was to get back at it by doing black bag jobs (illegal break-ins) and planting electronic listening devices. When it became apparent that he was going to get jammed in doing that because it was illegal he came up with the Top Echelon Informant program which protects some criminals while it chases after others.
Sadly it does a great injustice because the FBI decides who can commit crimes with impunity while prosecuting others. We know about the program in Boston because the Boston office had to identify two of these informants and a State Police interception disclosed another. The ones identified involved a really evil guy, Steve Flemmi, and a another much less evil, Whitey Bulger. The State Police intercepted an FBI agent telling his Top Echelon Informant who was suspected of murders and armed robberies, "my job is to keep you safe."
The idea behind the program is to keep the criminal as a long time asset who will provide information over time. Of course, to provide information the asset has to continue to be involved in criminal activity. For that to happen the FBI has to protect him so that he can continue to do it.
I should have been suspicious something was a little awry when the Washington, D.C. police arrested Enrique Tarrio the leader of the Proud Boys on January 4, 2021. He was charged with a misdemeanor " burning a Black Lives Matter banner."  A couple of other charges were filed against him relating to two firearm magazines found in his possession. On June  5 the judge released "Tarrio on his own recognizance Tuesday but ordered him to stay outside the nation's capital until his next hearing in June." 
He was not going to be in DC on the day of the insurrectionist attack on the nation's capitol. Too bad he was not going to among the rioters. He was lucky because he would be charged with participating in the riot had he been there because as the Proud Boys leader he would have had to be out front. He was saved from being charged with participation in the riot unlike another Proud Boys such as leader Joseph Biggs or Andrew Bennett.
Was it luck? Or, was it a big FBI pretense to keep Enrique Tarrio out of the riot and on the street so it could continue to get information on the Proud Boys. It has all the marks of a pretense.
What then. We learn that Tarrio has been an informant in the past. He has worked with the FBI to get a good deal on a crime he committed. Which begs the big question.
If the FBI used a cover story to get Enrique Tarrio out of D.C. because it did not want him caught up in the riot then the FBI must have know a riot was being planned by the Proud Boys. It follows that if the FBI knew that then there should have been warnings and preparations much greater than we saw. Did the FBI deliberately let the January 6, 2021 attack take place so that it would not compromise its Top Echelon Informant Tarrio?
There is a great smell coming out of the FBI in DC. Was the FBI aiding and abetting Trump in his attempted overthrow of the government? It is important for Congress to know what the FBI knew about the riot, what is its relationship with Tarrio, and why it did not warn the appropriate authorities what it knew  was about to happen.
It's an old story. Lie down with the dogs wake up with fleas. Lie down with criminals wake up as a criminal. Time to stop the FBI from lying down with criminals.