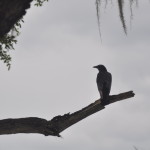 Little Miss Carey woke up today looking around for her mother Miriam. A child welfare worker told her that she would never see her mommy again. She was killed by the cops.
The media consensus of the events leading to Miriam Carey's death I found in the New York Post:
"Carey's rampage began just after 2 p.m., when she ran her black Infiniti over several low barricades onto a driveway leading to the White House. When she was stopped by a larger barricade, she reversed and struck a Secret Service officer, who flipped over the hood, said witness B.J. Campbell, a tourist."
Another witness had a different view.  He said Secret Service officers were shouting:  "Whoa! Whoa!," . . . at the car, "It looked liked [the driver was] scared or lost. I thought they might have been a tourist." But then, witnesses said, officers tried to place a barrier in front of the car. The driver swerved. The officers moved the barrier. She hit it, and a Secret Service officer was thrown up on the hood and then off the car."
The New York Post story continued:  "Carey then sped off away from the White House, down Pennsylvania Avenue, at least 20 Secret Service and US Capitol Police cars in pursuit. After a chase of more than a mile, she got hemmed in by officers and was staring down the barrels of at least five guns.
A video on Fox News shows the car stopped as part of the encounter that took place outside the Garfield Monument near the Capitol. She was stopped there as is shown in an earlier part of that video after being cut off by the police cars.  We see five cops gun drawn pointing them at the car.  A witness Ryan Christiansen, of Idaho Falls, Idaho, said, when the car "was pulling away, and somewhere between six and eight shots were fired, . . . "
The New York Post continues: "But even that couldn't stop her. She quickly backed away, drove twice around monuments in front of the Capitol and headed to the west side of the building. A cruiser blocked her path, but she reversed, jumped a curb and struck another police car as she sped off again. Finally, at Second Street and Maryland Avenue, between the Supreme Court and the Hart Senate Office Building, her car was surrounded by cops and Secret Service vehicles.
At least a dozen gunshots rang out, killing the unarmed woman in the driver's seat, . . .  Amid the mayhem, Capitol Police issued a lockdown order to the entire area." 
The Washington Post also reported: "Around the vast complex, heavily armed Capitol Police officers began banging on doors, instructing staffers . . .  to shelter in place and lock their doors. "Shelter in place. Just get to your office," an officer said when reporters asked . . . ."  An e-mail went out: "Gunshots have been reported on Capitol Hill. . . . Close, lock and stay away from external doors and windows." Sharpshooters took positions outside the iconic building. The House adjourned. The Senate adjourned." 
When the dust settled and the "shelter in place" order was lifted the House of Representatives went back into session. It gave the Capitol Police at lengthy standing ovation expressing its gratitude for the actions it took that resulted in the killing of Miriam Carey.
NY Times reported Miriam was killed "after turning her vehicle into a weapon . . .  ramming her way through barriers outside the White House and on Capitol Hill."  CBS news reported: it wasn't known "if she deliberately rammed the barrier or simply sideswiped it." USA Today reported she rammed a security barrier near the White House. The DC police chief said she attempted to ram the barrier. The pictures of her vehicle show no front end damage.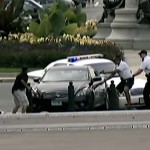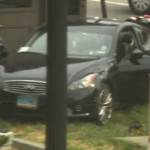 This is truly a tragic situation not only because Miriam Carey is dead when she need not be; but also because of the panic that captured our nation's capital as a result of this incident. One witness did describe it as "mass panic." It seems about right.
Aside from capitol police taking up positions as snipers: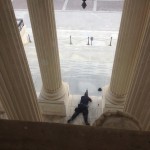 and FBI agents patrolling in heavy gear in the back of pickup trucks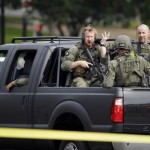 and armed ATF agents with bullet proof vests patrolling the areas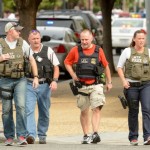 there are many images on the videos of heavily armed police patrolling the area and the heavily armored police tactical vehicles coming upon the scene.
It all points to an out of control police situation. None of this extreme over the top response was necessary. Don't police have an idea what is happening? Where is the proper assessment of an ongoing situation. This was a simple matter. It carried out under the full view of the police. This massive confusion should not be occurring. Giving a standing ovation just allows this ineptness to continue.
I'm not Monday morning quarterbacking this. This woman never rammed any barrier. If she did anything she may had sideswiped a barrier put in front of her because she went down the wrong street. She panicked and tried to flee. She was stopped twice. No attempt was made to shoot out her tires or otherwise disable her car. Being unarmed she presented no threat to anyone once her car was properly trapped; in effect, the weapon, which the NY Times cavalierly described her car as being, was immobilized. Why then is she killed?
Aside from what I suggest is the police overreaction in her wrongful killing, the reaction of the police both federal and city was outrageous. All the shots fired in this case were by the cops. Why are people being told to "shelter in place," a term which I find odious since it speaks to me of police state tactics. Where are the police procedures that keep things under control. This is nothing more than a questionable police chase of a vehicle that refused to stop for the Secret Service and the national capital panics.       
Now add this to this. The residents in 50 apartment in the Connecticut condominium complex where Miriam lived have been ordered out of their homes while the police get a search warrant to search her apartment. They were kept our over night. There are no facts showing a connection between Ms Carey's condo to whatever vehicular crime she committed. Under our Constitution, there is no basis for such a search. Nor is there any emergency the police can articulate which allowed them to order people out of their homes.
This is all part of the ever-increasing encroaching of police state tactics on our lives. The "shelter in place" which first gained prominence during the Marathon Terrorist Attack is an action that has no basis in law and encroaches on our freedom. The searches for evidence unrelated to a crime broadens the trampling upon our rights.
Miriam Carey may now be dead. Her death demonstrates our rights as citizens are slowly dying.