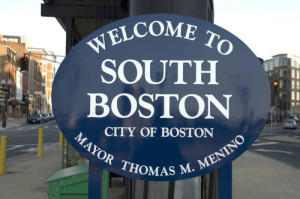 I am not aware of any other section of the city that has a song dedicated to it other than South Boston with its "Southie is My Hometown." That in itself should tell you the people from there are proud of having the connection with it.  Perhaps that is the reason so many others seem to have  disdain for it; an inveterate and ineradicable jealousy.
I talk about South Boston because of two items I read in the last week or so.
President Obama just named the new head of the Joint Chiefs of Staff, the one person who holds the highest position in America's military. He is Joseph F. Dunford, Jr. I read this about him:
"Dunford, 59, joined the Marine Corps in 1977, following in the footsteps of his father, a Marine who served in Korea and later became a Boston police officer. Raised in South Boston and later Quincy, Massachusetts,  . . . He's Irish Catholic, the same as the current chairman, Gen. Martin Dempsey. . . . He earned the nickname "Fighting Joe" . . . . His selection as the nominee for chairman was hailed on the Marine Corps' Facebook page with the customary Marine salute: "Ooh-Rah, Sir!" . . . He was #7 on Fortune magazine's list of the "World's 50 Greatest Leaders" in 2014. The magazine quoted Dunford as saying that his first battalion commander told him the three rules to success. The first? Surround yourself with good people. "Over the years," said Dunford, "I've forgotten the other two."  (my emphasis)
The Dunfords are a typical South Boston family. His mother's four brothers served in WWII. His grandfather fought in WWI probably with the Yankee Division "and those boys from South Boston [who] mopped up Germany." His father served with the Marines in the Battle of Chosin Reservoir. Korea. His father is quoted as saying: "You graduated from South Boston High, and you went into the Marine Corps" 
Yet, that was not the item though that made me think of this subject.
My wife Maria goes to a local library where she sort books every week for an upcoming book sale. The other day she brought home a book titled "The Last Lion." It is about Winston Churchill. I thanked her but told her I already had the book. She said she did not think so.
She was right. I did have a book with the same title. It turned out it was the second volume of a three-part series. The book she brought home is the third and final volume.
I looked at the cover. The authors were listed as William Manchester and Paul Reid. Manchester, like Dunford was a Marine. He wrote a compelling book about the Marines during WWII "Goodbye Darkness" that has always been a favorite of mine. William L. Shirer (The Rise and Fall of the Third Reich) said it did for WWII what Siegfried Sassoon (Memoirs of an Infantry Officer) did for WWI "bringing home the misery and horror of combat and what it is like to fight and be wounded and die in the hell and confusion and blood of modern battle." 
Seeing Reid's name, I wondered if Manchester was still alive. I checked and  saw he died in 2004. I learned that he had asked Reid to finish the book.
I read Reid's introduction to understand how it turned out that Manchester arranged for this to be done. Near the end of his introduction, Reid, who is now living in North Carolina,  mentions five others who "long ago set in motion my role in this story."
Two were the Reppuccis, his childhood neighbors in Winchester. The others were: "my sister Kathy, and my parents, Mary and Sam Reid, he a son of South Boston and the United States Naval Academy." After identifying his father in that way, he told how his father believed Churchill's motto was "never give in." 
I paused after reading that. Obviously to mention in a  tome that his father was a son of South Boston showed his father had great pride in that. He passed it on to his son. It is a part of who they were. It is something special to the Reids as it is to the Dunfords.
Why is it?