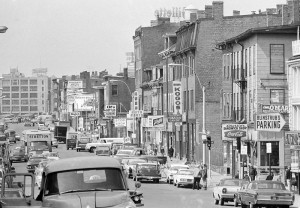 I've written over the past two days about South Boston and how its relationship with the Boston media has never been good because of the media's animus toward it. I've pointed out how the many good things its sons and daughters have done are overlooked by the media in order to present it as a place where mostly evil exists. It has been subject to the type of media coverage that only looks for a wart on a little toe and not at the beautiful of a face that is presented to others.
The lead newspaper in Boston, the Boston Globe, has made clear its distaste for Southie for many years recently putting out a story under the headline "bad old Southie."  The Globe considers  itself a progressive newspaper. The manner in which it treats all the people who are from Southie with a wide black brush is noteworthy because it explains, in part, the reason we have Trump in the White House.
There are many thousands upon thousands of Southie-like neighborhoods which range across a large swath of America where hard-working people feel demeaned, ignored,  or left out. They feel they are not represented by either party having had a go with both Democrats and Republicans and coming up short. As a group without representation in a two-party system: Republicans main concern the rich; Democrats catering to anti-tradition secularists, they have no one to turn to. Not unexpected is that within these communities a large increase of opioids use exist caused by the despair. They are lured into expecting help by false prophets seeking to profit from their desperation.
These are the people with traditional American beliefs and values that they wish to preserve.  For this many have been tarred by progressives who run some of the top newspapers in the country in conjunction with the Democratic party elitists who cast general aspersions at their neighborhoods. The people living there, including those who hold the same beliefs as the casters, rebel. When an entity attacks your family or friends, then that person becomes persona non grata. When such an entity looks for support at best the people will abstain.
The America they knew seems to have disappeared. Many in these neighborhoods see their neighbors attacked for their beliefs or being foiled by despair. Looking at no exit, seeing no one recognizing their plight, they succumb to support one engaged in legerdemain.
They turned to Trump because he wasn't Hillary. She chased them away when she called them"deplorables." In families you may disagree over a candidate but few think their relative "deplorable" because he or she holds a different viewpoint. When the Globe suggests the people of Southie are "deplorables" it may fleetingly please some readers but it strongly alienates those who know these people.
The Democratic candidate Hillary (planning to run again in 2020) who aside from insulting many Americans projected an aura of entitlement. That is something that turns average Americans off (remember Jeb). She was crippled by the albatross around her neck named Bill (remember the tarmac meeting with Lynch) as well as the Clintons greed making them look like they liked money as much as their opponent making that issue a wash.
Trump was a deplorable candidate. Many wanted neither. Both he and Hillary had historically high unfavorability ratings. We were recently reminded: "The contest was settled by those who viewed both Trump and Hillary Clinton negatively. These pox-on-both-houses voters made up 18 percent of the electorate, and went 47 percent to 30 percent for Trump over Clinton, with most of the rest opting for third-party choices." 
That 18% is 22 million voters. Of that Trump got 10 million; Hillary 6.5 million; and neither 5 million. Those were the people from the Southie-like neighborhoods in America. Those are the people America has turned its back on. If they walk away who will be there to defend America?