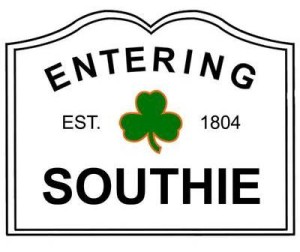 I was born when my family lived in South Boston. I lived there in Old Harbor Village until around my tenth birthday when the family moved to Savin Hill. My parents and all their siblings are from South Boston. My father went to South Boston High school, played football, was the president of the South Boston HIgh Alumni Association,  and revered the South Boston High School football coach Steve White. (More on him tomorrow.)
I recall as a young lad they had a several testimonials honoring coach Steve White. One was at Blinstrub's night club in South Boston. Blinstrub's, which was quite large, on the night they gave Steve a dinner on account of his retirement was as crowded as MIck McGilligan's ball. Over 1,300 people attended to say goodbye to coach White.
Southie always took care of its own. It produced from its housing projects, three-deckers and other homes on its alphabet and numeral streets men and women of remarkable ability, achievement, strong character and free of prejudice.  As the song goes they were: "doctors and lawyers, teachers and preachers . . . "
My mother and father were both teachers. My father also became a lawyer.  None in the family became medical doctors. It was hoped my first cousin Roger Concannon would be the first bishop in the family although it never quite worked out that way but had it he would have made an astounding one. 
Two of the well-known people from Southie tell of the type of people who come from there and their prejudices. Although it wasn't Roger, Southie did have a bishop who was born there. It was the great Richard Cardinal Cushing. He was described as "a crusty and completely unpredictable cleric from South Boston…with his gruff affability and down-to-earth humor.. He became a lifetime member of the NAACP back 1961 long before the civil rights marches; he was a leader in Catholic/Jewish rapprochement. One person remembered: "Cushing was a philo-Semite. He liked Jews. He told me in one conversation the person he loved the most in his family was his brother-in-law, who was Jewish..
How many other sections of Boston can boast of having  as one of its sons the US Speaker of the House. Southie had John W. McCormack? (Speaker Tip O'Neill from North Cambridge had as his best pal and pupil Southie's Joe Moakley. ) McCormack saw "to it that a congressman who was in line to become the first black committee chairman was not derailed by conservative southerners. McCormack also desegregated a House barber shop that had refused black staffers." He saved the Civil Rights Act of 1964 discharging it out of committee. As House Majority Leader John McCormack rose to commend James Michael Curley saying he was "a man who has always condemned intolerance and bigotry in any form." He did that after Curley, "then a congressman from Boston, spent 20 minutes reading a list of Jewish war heroes — from the Revolutionary War to the Battle of Anzio — into the Congressional Record."
Go down the list of prominent Irish Catholic politicians and clergy born in Southie and other parts of Boston, as far back as John F. Fizgerald, the grandfather of President Kennedy, who in the late 1890s supported the newly arrived Jews and Italians and who was one of two in Congress who opposed Jim Crow laws. These are to a great extent the part of the Southie tradition that gives me pride.
When I think of Southie I remember those who fought in our wars. There was Michael J. Perkins which grammar school I attended. He won the Congressional Medal of Honor in WWI. I recall the WWII vets who I loved to talk to like Bill Carr who served in Italy. Then there was John "Doc" Tynan who flew 25 bombardier missions in a B-17 over Germany. He had both Clark Gable and Jimmy Stewart under his command. He was shot down five times. And, of course, my uncle Jimmy Rogers who I never shared a word with because he went down during the war in his B – 17.
Of course it did not end with WWII. South Boston has sent its sons and daughters off to all our wars. While the country was trying to forget about Vietnam, in Southie they erected what some say is the first memorial to those who lost their lives in that war.  It has 25 names of men who died there. Like with the Vietnam Wall in DC where I know some of the fallen, I know one of those on the Southie wall, John Jacobs. How's this for a statistic that tells much about this country: over twice as many men from Southie died in Vietnam as those who graduated from Harvard. 15 of those who died were Marines of whom 8 were private first class. Semper Fi.
These were folks who had those traditional values of God and country, They did their best to live by them. Most, like their esteemed leaders, lived without a bone of prejudice in their bodies. For decades they have been wrongly characterized in the Boston media and that obsession over South Boston continues to today.
Look at the fake portrayal of South Boston as stated in the March 11 Boston Globe headline: Most relieved to see  bad old Southie get slapped down." 
Pause and think of that headline: "bad old Southie." Seriously, do you know of any other section of the city of Boston that has been labeled in a similar manner. What is it that made the Boston Globe spill so much venom over a section of the city containing groups of people as diverse as any other section?
Maybe it lingers on since the time Henry Cabot Lodge called Fitzgera;ld an "Impudent young man" for opposing his bill to limit Jews and Italians coming to America. You do know that Tom Winship the Globe's editor (got job from dad – patronage appointment?) was on the staff of Senator Henry Cabot Lodge. And you thought it was the Irish that never forgot a grudge.