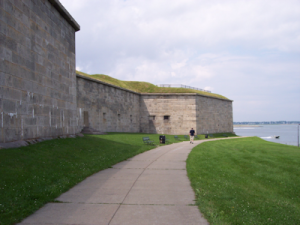 Yesterday I wrote how the media had vilified South Boston over the years. Despite the evidence otherwise it cruelly portrays the people in that small section of the city as being a uniform barrel full of bigots.
Those who do it are usually people who have little connection with Southie people. Some may have lived there for a bit but have no roots there. They have not had the opportunity to grow up there among many relatives and friends and realize that within every family the beliefs and ideas span a wide spectrum. They are unaware of the loyalty many from that area feel toward each other.
Those loyalties last for a lifetime. I've recently heard from one of the Gaughans who lived in Old Harbor with me who I had not heard from in eons who spoke about others we knew from there and the good times we had as kids. I've told how a court officer named Gasher was giving me the old brush off when I went in to visit a judge on the Supreme Judicial Court. Then when I called him by his nickname and told him I lived in Old Harbor he couldn't do enough for me. That's how it works if you come from Southie where you can call in chips that are sixty years old and it is all done with a smile.
One of my best memories of Southie is its relationship with its high school football team something that you normally would see in Texas. At one time in the 1930s into the 1950s it had a coach named Steve White. I've seen photographs of him and it looked like he could hardly see but he was a great coach.
Southie was made up of many blue-collar workers, firemen, policemen, utility company, factory workers (Gillette) and laborers who back in those BO days (before overtime) were not paid much more than a minimum wage. Especially the cops because they were still mindful of the 1919 Boston police strike where most of them got canned. So budgets were often tight especially with the large Irish families. It was a town where every dime mattered yet, when Coach White needed a car it got together and purchase a new one for him.
In early December 1950 almost 1000 people showed up at the East Newton Street Armory to honor him. Steve White had graduated from Dorchester High School and get this, from Princeton University.  He became a professional baseball player. He started at Southie as a coach of football, baseball and track in 1926. He had eight undefeated football teams. My father played football under him (as did Bill Carr and Doc Tynan mentioned yesterday) and was "general chairman of the banquet committee" that held the fete.
In January 1955 at age 70 Steve was given a tribute by 1300 people on occasion of his retirement after 29 years as coach.  An article about the event underneath a photograph of my father and Coach White read: "A check for nearly $2000 [$18,000 in today's dollars] was presented the 70-year-old gentleman by Matt Connolly, President of the South Boston Alumni Association." The article told how White was given a plaques with a bronze stick on it. It symbolized the one which Steve "good-naturedly chased his athletes around the practice field."
About his  retirement Steve, who owned a 20 acres chicken farm in Stoughton, said, "I don't know what all the fuss is about. I'm just an ordinary guy. I just did my job." 
Steve refused to named an all-star team of players. The article noted "Some of the outstanding players Steve had at South Boston were . . . Matt [my dad] and MIke [my uncle] Connolly, Billy Carr, . . . Doc Tyner (sic) . . . Tom Joe and Tom Pat Sullivan, Dick Lucas, Jimmy Lydon, Paul Lombard, "the greatest blocker I've ever had . . . that's only the beginning of the list." The Sullivans played in the same backfield at the same time.
Asked about his job he said: "O, I've enjoyed it very much all the years at South Boston. I've enjoyed the rivalry with East Boston. [Those gamed drew more than 7,000 fans, were played at Braves Field and Fenway Park. After his final East Boston game on Thanksgiving the East Boston players carried him off the field.] And I've enjoyed all the boys at South Boston. You know, South Boston boys seem to have something the other boys don't have. I don't know what to call it. It's just something extra."
Is it because the people from South Boston have that "something extra" that infuriates the media and compels it to tear them down?