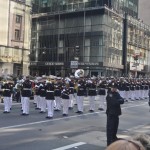 I used to attend the St. Patrick's day parade in South Boston as a child with my parents, then as I slipped into my teens when it became inappropriate to be seen with one's parents with my friends, and finally with my wife when my children were young. I think all of these times the parade was on March 17th rather than a Sunday nearby that date.
As a child I stood in front of my grandmother's house on East Fourth Street; with my friends we usually went up to Dorchester Heights, and with my kids I went to my cousins' houses up on East Broadway. Memories as a child involve my uncle and his friends involved in a block long fist fight; as a teenager when the Dublin Mayor Robert Briscoe marched in the parade. This was memorable because he was Jewish which seemed strange to me at the time since I couldn't figure out how anyone but an Irish Catholic could become the major of Dublin. As a young father I was amazed at the banality of the parade and the amount of beer trucks that seemed to be part of it.
I don't think I've been to the parade since some time in the 1970s. But that doesn't mean I haven't thought about it. My interest in it has continued because of the issue concerning whether gays should be able to participate. My brother, William, happened to involve himself legally in the matter and assisted those who ran the parade in their legal efforts to protect their rights to decide who could participate in the parade.
He has set out his experience doing this in a book called: "From Trial Court to the United States Supreme Court: Anatomy of a Free Speech Case: The Incredible Inside Story Behind the Theft of the St. Patrick's Day Parade." Those with an interest in seeing how the judges can make the law into what they prefer despite the First Amendment would enjoy it. Another summary of the events is set out here.
Every Massachusetts judge, except one. Justice Nolan, who heard the case ruled that the organizers of the parade were wrong to exclude gay groups; when the Supreme Court took the case it unanimously (9 – 0) ruled that all those judges were themselves wrong. The Supreme Court said that the parade organizers could not be prohibited from excluding the messages of groups it did not agree with, nor could it be forced to endorse a message against its will.
It's really a simple issue to comprehend. Suppose you want to promote a vegetarian diet. You apply for and are given the right to use a public place to do that. You solicit speakers who you believe support your view-point. You are approached by members of the American Carnivore society who want to present their views which are opposite of yours. You have the right to just say no to them. Suppose a gay group wants to give a presentation, is that a different case?  Not really, but if you exclude them you may be suddenly accused of being something you may not be.
That's the position of the Southie Parade organizers, they don't want to let gays into their parade if they are going to present a message that they don't like. That is their right. It is assumed that they are homophobic. This then makes them POOF (people out of favor) which is the signal for many of the right thinking people to feel good and righteous by ganging up on them.
A Herald columnist Marjorie Eagan wants to shut the parade down telling us of all the other people who have no problems with gays. Everyone else in the media seems of the same mind. It is a safe place and comforting place to be on the side of gays as the judges in Massachusetts decided they would be even though it meant depriving the parade organizers of their Constitutional rights.
Back in the 1992 and 1993 parade gays did march, They encountered a somewhat hostile reception, at least in the first year. Then the litigation began and the parade was cancelled in 1994 to keep gays out.  In 1995 the Supreme Court gave the organizers the right to decide who would be in their parade. For that past 20 years up until this year the parade organizers kept gays out but under pressure from the new mayor they came up with a compromise. They would allow a group of gays to march as a group under the banner of MassEquality as long as they did not identify themselves as gay. That hardly was much of a concession. I assume that over the years there have been many gays marching in the parade who did not identify themselves as such.
The attitude toward gays in our country since the early 1990s has shifted drastically. It did because so many gays feeling less threatened identified themselves as such. What happened was that most straight people found out that they had relatives, friends, associates and other people who they loved, liked or admired who were gay. Given that, it made little sense to do other than what one had already been doing in the relationship. Slowly the acceptance of gays grew.
In the early 1990s not only did a person hide that he or she was gay but also the idea that gay people existed was also very much not a matter of open discussion. That also has changed. It has been 10 years since same-sex marriage was allowed in Massachusetts. Few, if any, are unaware of gays or their sexual preferences.
It won't be this year; maybe it won't be next. But someday soon the parade organizers will recognize the absurdity of trying to prevent people who are gay from marching in their parade with appropriate banners or T-shirts proclaiming their message. When they do, their message at worst will be met with a big ho-hum from the spectators. For now in America, and even South Boston, most of the prejudice against gays has evaporated.
I'd guess, that a couple or three years after gays first march they'll too find it something of a bore. Their message will have become so prosaic that it will carry no more meaning than that of the lumbering beer trucks.