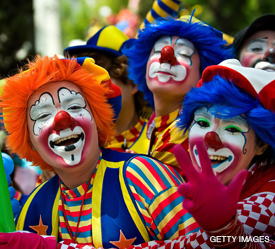 It's one of those one-act shows that seems to attract some interest. Probably a better description would be to call it a carnival which is one step down from a circus.  It was at the carnival as a juvenile one would wander around and wonder at the strange doings that seemed to be going on behind the barker who told of great mysteries like the bearded lady or the human owl who was in the tent behind him. Other gory painted pictures aside the barker of promised grotesqueries supposedly ensconced inside which could be viewed for a modest price piqued the puerile imagination.  Crassly some people referred to this type of entertainment as a freak show.
That probably is the best definition of what is going on in the federal courtroom in Boston. The star of the show is Stevie Flemmi. The barker is the federal prosecutor who has entered into an unholy alliance with Stevie, Freddie Wyshak. They travel the circuit putting on their little display.
There is a video of the act that was carried out in a Florida courtroom where Stevie testified against an FBI agent. The agent was Stevie's handler – the FBI agent that deals with informants like Stevie. You see Stevie was an informant for all his life and for all his life he was protected by the FBI. The agent he testified against was the third one who dealt with him. Stevie decided to testify against him in order to avoid death penalty trials in Florida and Oklahoma.
During Stevie's Florida testimony he was asked about the murder of Brian Halloran that was carried out by Stevie's partner Whitey. How that was relevant to the trial escaped me. But the judge in his wisdom allowed it into evidence.
Another one of these criminals who hung with Stevie and Whitey,  known as Two-Weeks, told how Stevie was not part of the Halloran murder because he was not around at the time of the hit. He said Stevie was greatly disappointed in having missed it. He spent the time afterwards that night at his mother's house with Whitey going over it and laughing at how his partner kept firing bullets into defenseless Halloran.
Whitey and Stevie had a nickname for Halloran. They called him balloon head. During the Florida trial the video showed that the prosecutor when questioning Stevie about Halloran's murder found the name balooon head to be quite humorous  He and Stevie could not retrain their laughter when talking of the murder.
It was a sordid showing of the closeness between the prosecutor and his act Stevie. It was like watching a trained seal bark out the right notes when asked about certain things. It is, as I said a  freak show.
Stevie will testify in accordance with well rehearsed script against another freak – a former head of the New England Mafia who used to be part of the prosecutor's act – Frankie Salemme who – as I've written before – is the dumbest criminal ever to soil the streets of Boston. Frankie during  his testifying act earlier bemoaned the poor  quality of individuals who had recently joined the Mafia. Not realizing it – that's the trouble with stupid people is they don't know they are stupid – he was example number one.
Their relationship goes back to their earlier year when they met in the Roxbury section of the City of Boston. They were close buddies who blew up a lawyer's car in order to curry favor withe LS. That's how Frankie referred to Raymond L.S. Patriarca the long time Mafia head of most of New England who was stationed on Federal Hill in Providence. Before that they were also involved in other murders in the so-called Irish gang war of the 1960s which involved mostly Italians.
So imagine a plain ordinary juror who has led a plain ordinary life sitting in judgment of Frankie. How many people has this juror come across in his or her life who have murdered people?  None? One?
The barker then tells the jurors that he is about to pull back the screen and bring before them a guy who has murdered a dozen or more. Among those he has murdered is his long-term girlfriend who was trying to break up with him and his step daughter who as he was sexually assaulting her before she reached her teens.
Yes, I guess it is a carnival. How often do you see such a freak?